Planning a Festive 4th of July Get-Together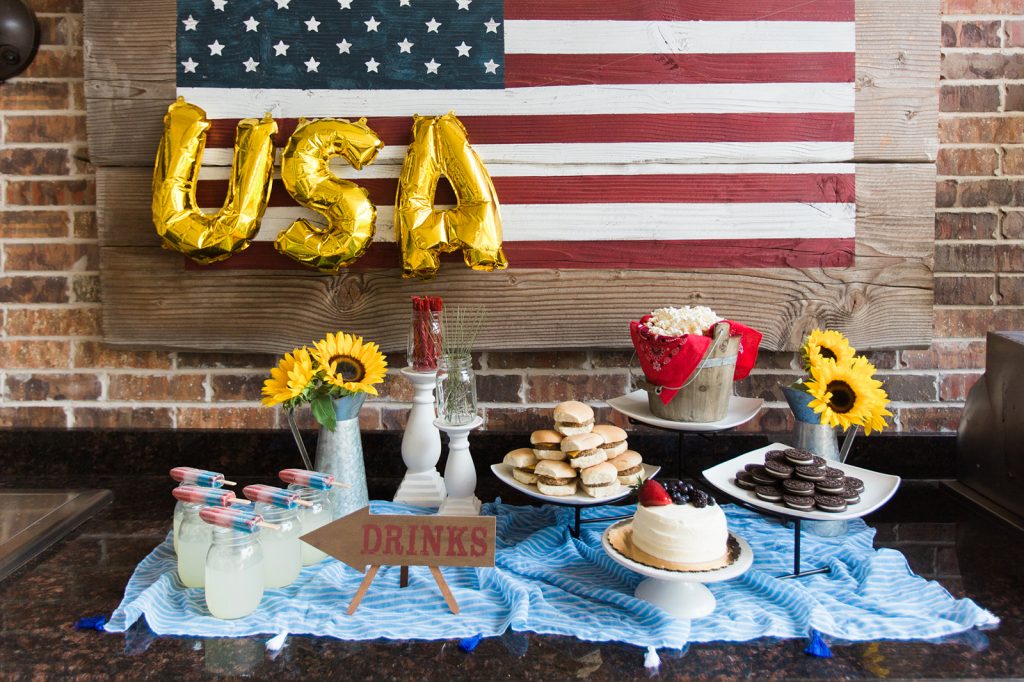 The Fourth of July is one of the best holidays for gathering friends and family together. From yards games and water retreats to country music and firework shows, there's no limit to the ways Americans celebrate their beloved Independence Day. But regardless of the activities, no Fourth-themed party would be complete without a feast table of Revolutionary proportions. Fortunately for us, pulling together a Star-Spangled banquet is easier than [apple] pie. Here are a few foolproof tips for your upcoming get-together.
1. Don't overdo the Red, White, and Blue.
Americana can be incorporated in all kinds of rustic textures and patterns, so overusing red, white, and blue isn't necessary and can come across extremely busy. Try playing up the whites and creams with pops of red here and a touch of blue there. A bandana and colorful berries are great ways to add in tasteful accents. A little goes a long way.

2. Stick to the staples.
When it comes to the menu, it's best to just go with America's favorite… EVERYTHING. That means plenty of popcorn, Oreos, and sliders for all your guests.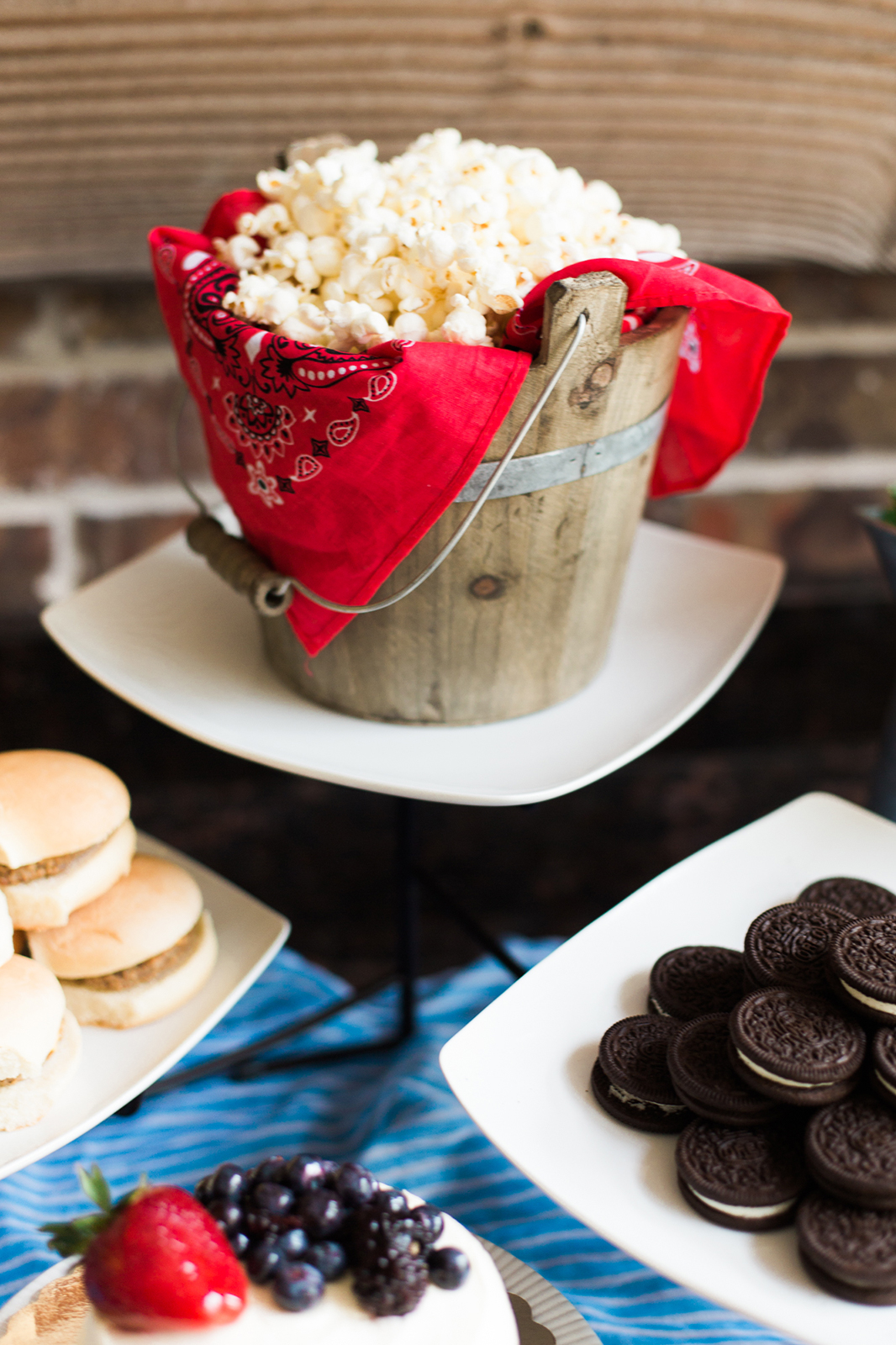 3. Use what you have.
The beauty of Americana design is the casual, everyday style. There's no need to feel obligated to buy a ton of flashy decor for your get-together — just use what you own in interesting and unexpected ways. Don't have a tablecloth or runner? Try a simple striped scarf instead. Can't find outdoor glassware for serving drinks and displaying treats? Dust off those old Ball jars in your basement.

4. Make a statement.
Consider adding a statement piece to a highly-trafficked area or food station, like this amazing American flag piece, custom created by Red River Designs in OKC. (Give them a follow!)
Red River Designs is a family owned and operated business specializing in handcrafted furniture and design pieces.  Each piece, from live edge dining tables to butcher block countertops, is unique and tells a story.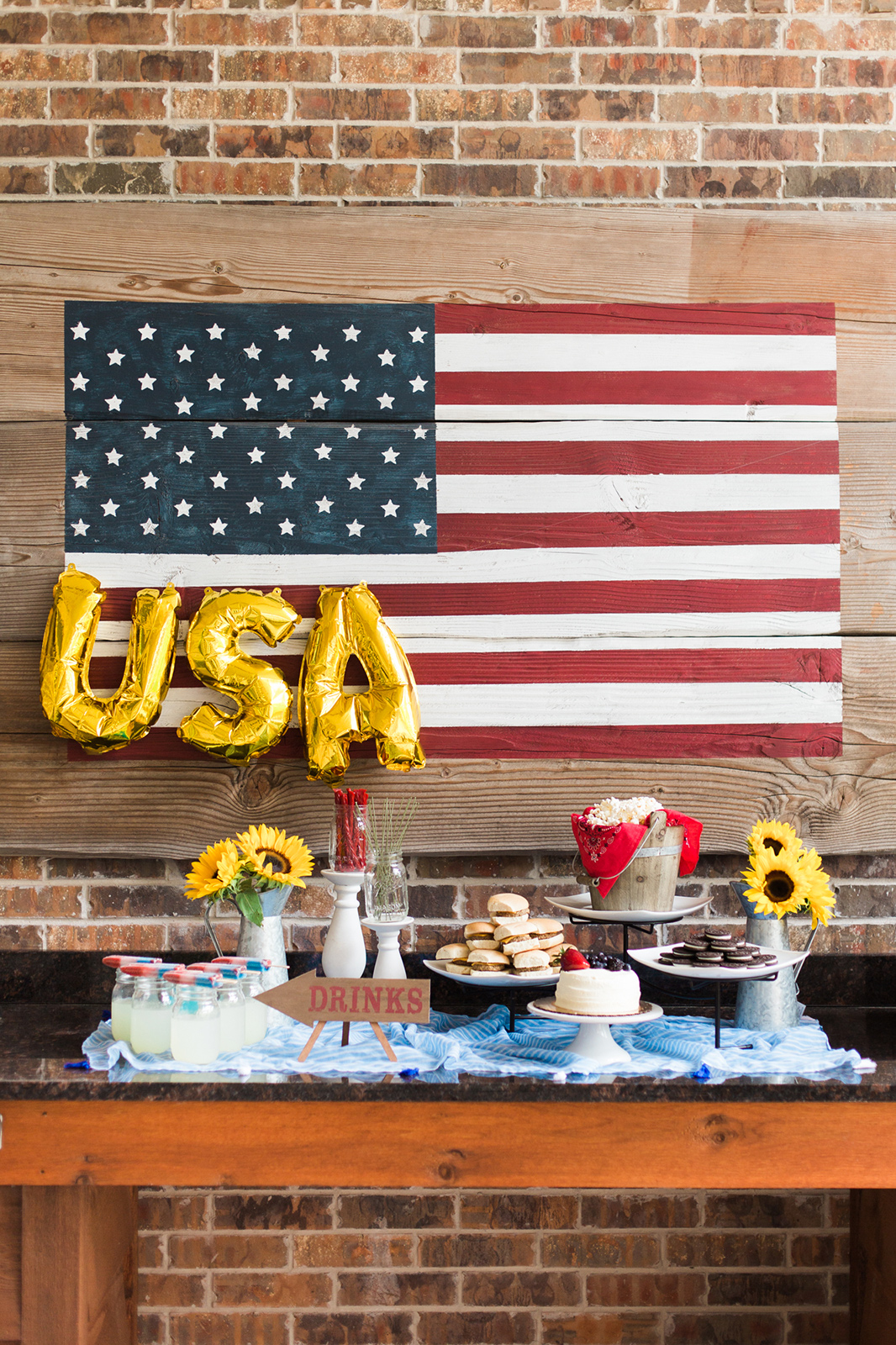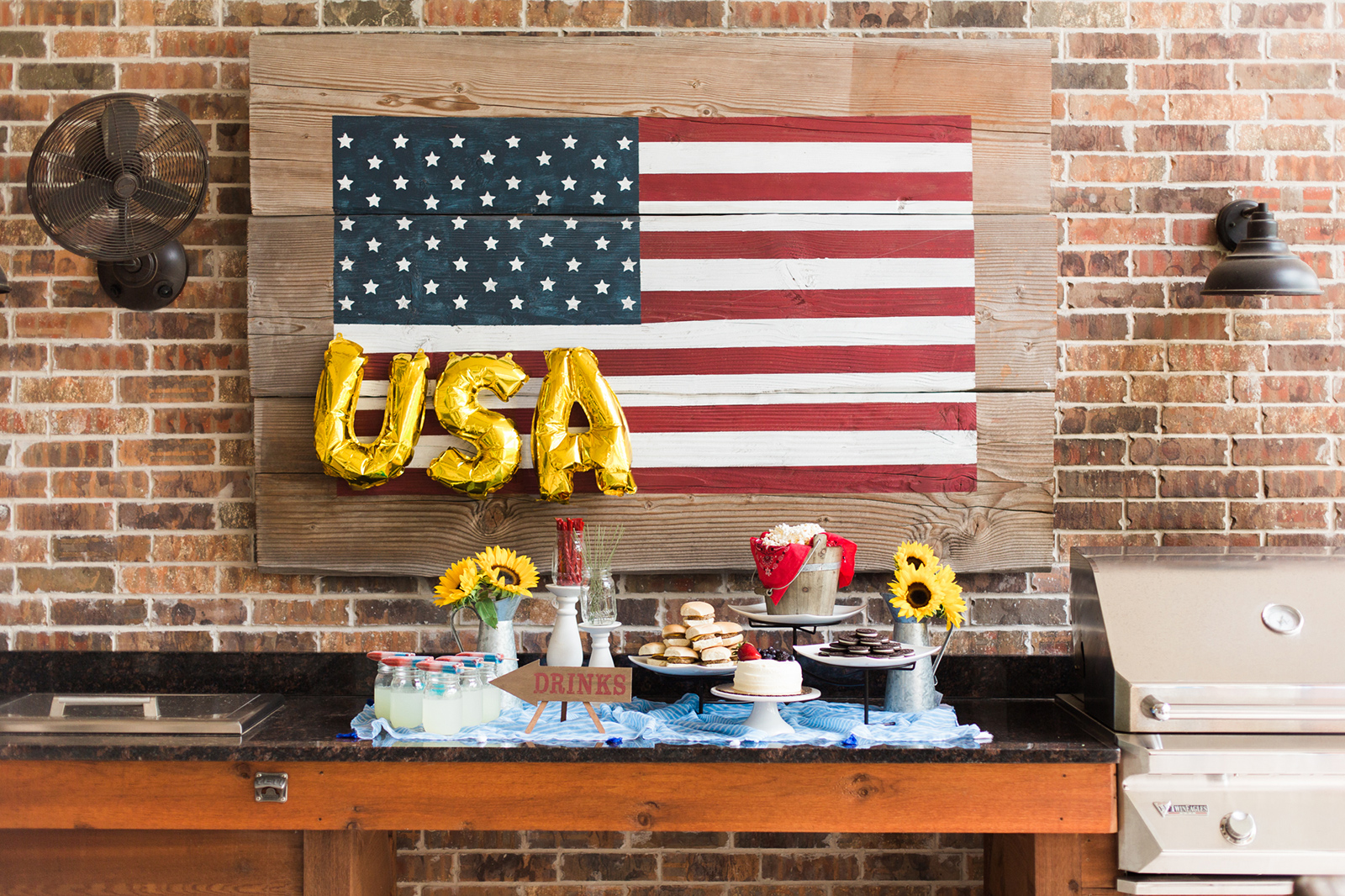 ---
Cocktail Recipe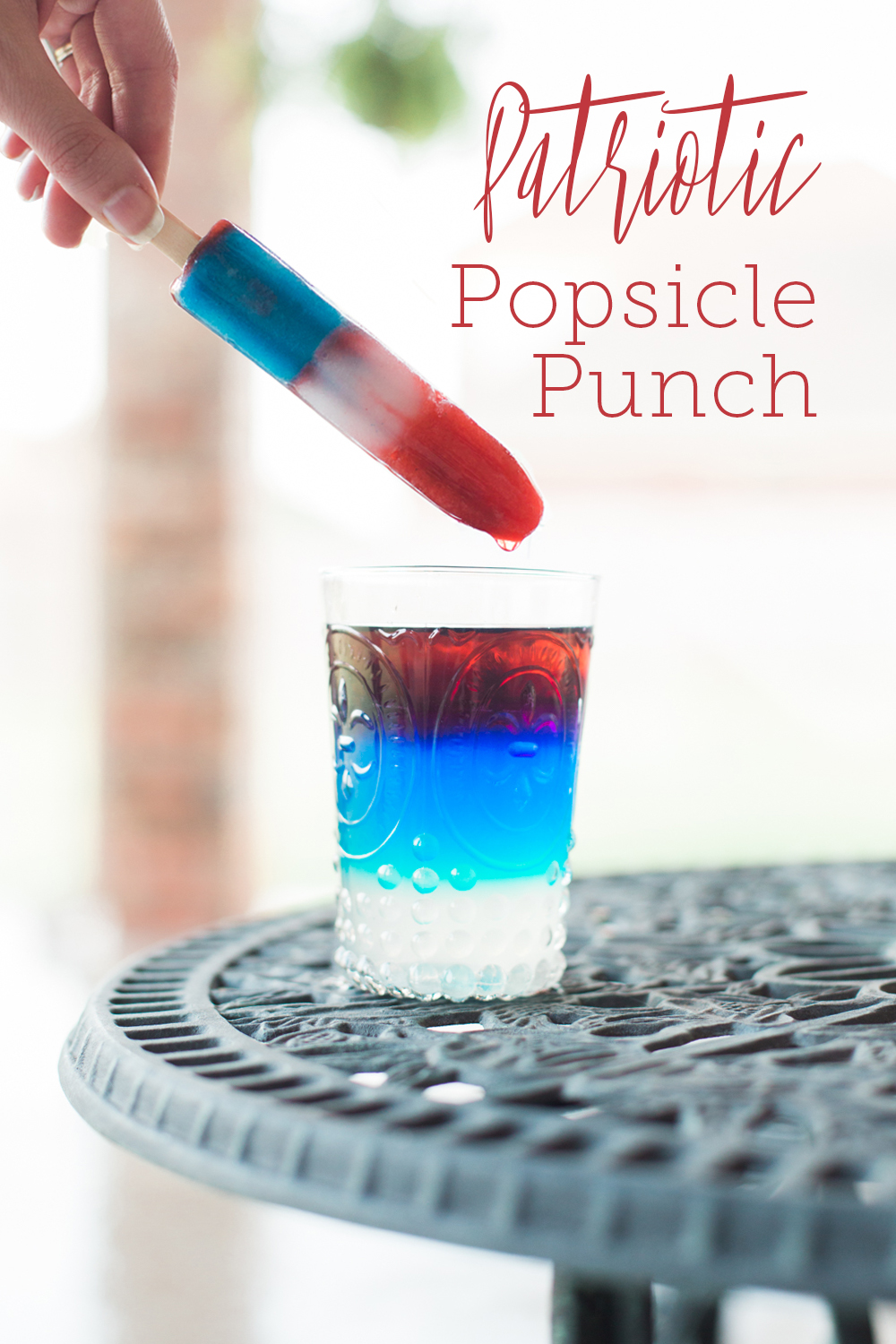 Give the finishing touch to your event with a custom libation. This one is a recipe of my own design — inspired by the most patriotic of all popsicles, the Bomb Pop!
As a disclaimer, I'm not a mixologist. Quite frankly, I was never even very good at science. But there is something to be said for experimentation and determination. And that is exactly how this festive cocktail came about. Hope you enjoy!
Ingredients
Bottom Layer: 2 oz Simply Limeade + 1 tsp sugar
Middle Layer: 2 oz Blue Curacao
Top Layer: 1.5 oz Bacardi Razz Rum + pinch of Fruit Punch Crystal Lite or Kool Aid mix (for color)
Pour layers slowly over an upside-down spoon as to not encourage a mixing effect. Your bottom layers may want to mingle a bit if their densities are too similar. So when in doubt — or distress — just add more sugar to the limeade. This will help weight it to the bottom and, let's be honest, make it that much more enjoyable to drink. Then, serve with a Bomb Pop instead of ice.
**You can also use only Limeade with a Bomb Pop for a refreshing non-alcoholic option!