Simple & SUPER Tasty Easter Deviled Eggs (Healthy, too!)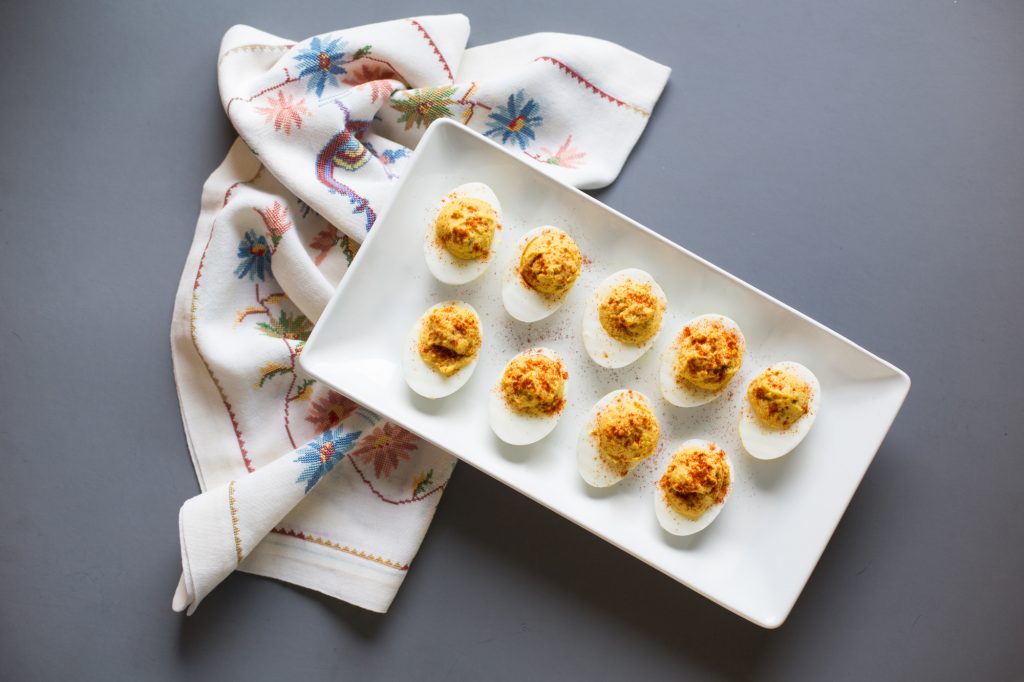 These deviled eggs are the perfect little appetizer for the fam to snack on while Easter lunch is finishing up in the oven. I'm not kidding, I brought these a couple years ago to a family holiday and since then, they are demanded. Even the family members who turn the other cheek when "healthy" is involved, love them! (cough, cough, Papa John)
Ingredients
6 eggs
1⁄4 cup roasted pepper hummus (don't use the stuff that comes in the middle, just the hummus)
1-2 tablespoons yellow mustard
1 tablespoon pickle relish, sweet (your choice) or 1 tablespoon dill (your choice)
1 teaspoon apple cider vinegar
Salt
Pepper
Paprika
Directions
Hard boil eggs. Fill pot with cold water and bring to boil. Once boiling, easily drop eggs into boiling water. Boil at medium/high heat for 12-14 minutes.
Run under cold water for about a minute. Tap the eggs to make peeling easier, and peel them while they are still warm. Cut them in half lengthwise, placing the yolk in a separate bowl.
Place the egg yolks, hummus, mustard, pickle relish, apple cider vinegar, salt and pepper to taste in a bowl or food processor. Mix well.
Spoon the yolk mixture into the egg-white halves neatly, filling the inside. Sprinkle the top with the paprika for color.
Just a little insider tip. The first time I ever made these, I only had the red pepper hummus so that's what I used. My sweetie loved them. Well,  the next time I made them I used the classic hummus and Jermelle wasn't having it. He's a big fan of the red pepper hummus! Sounds weird but it's delicious.
I hope your Easter Weekend is filled with lots of egg hunting, chocolate bunnies and Jesus praisin'! Love you all.