My Italian Vacation and the Countryside Less Traveled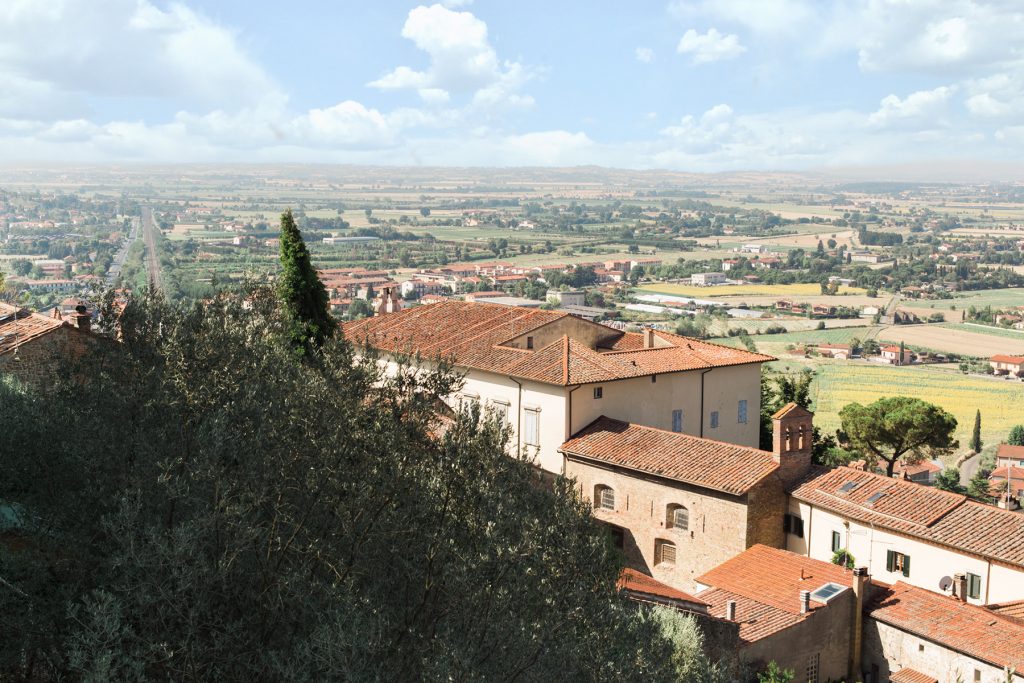 Italy is one of the top five most visited countries in world. And with rich history, revered influences in art and architecture, and cuisine of the highest caliber, it's no wonder that tourists flock there year after year. In the cities lie ancient amphitheaters, marble palaces, designer shopping, and attractions at every street corner. But my heart lies in the vineyards, rolling hills, and terra cotta roofs — the countryside less traveled. So when Ben and I planned our vacation to Italy, we knew we wanted a rural retreat rather than the bustling vibe of Italy's most popular sites. Which led us to the captivating towns of Orvieto and Castiglion Fiorentino.
Orvieto
Orvieto sits majestically atop a crest of volcanic tufa with defensive walls surrounding its outer borders. Getting there is as easy as catching a Florence-bound train north from Roma Termini and then a tram called the Funiculare up into Orvieto. 
During our stay, we booked an Airbnb apartment in the heart of the town. It was the picture of Italian charm with marble floors, intricately carved wood furniture, floor-to-ceiling shuttered windows, and religious paintings that looked as though they had been passed down in the family for many generations. We also had a breathtaking view of the Duomo from our bedroom window that was pretty hard to beat.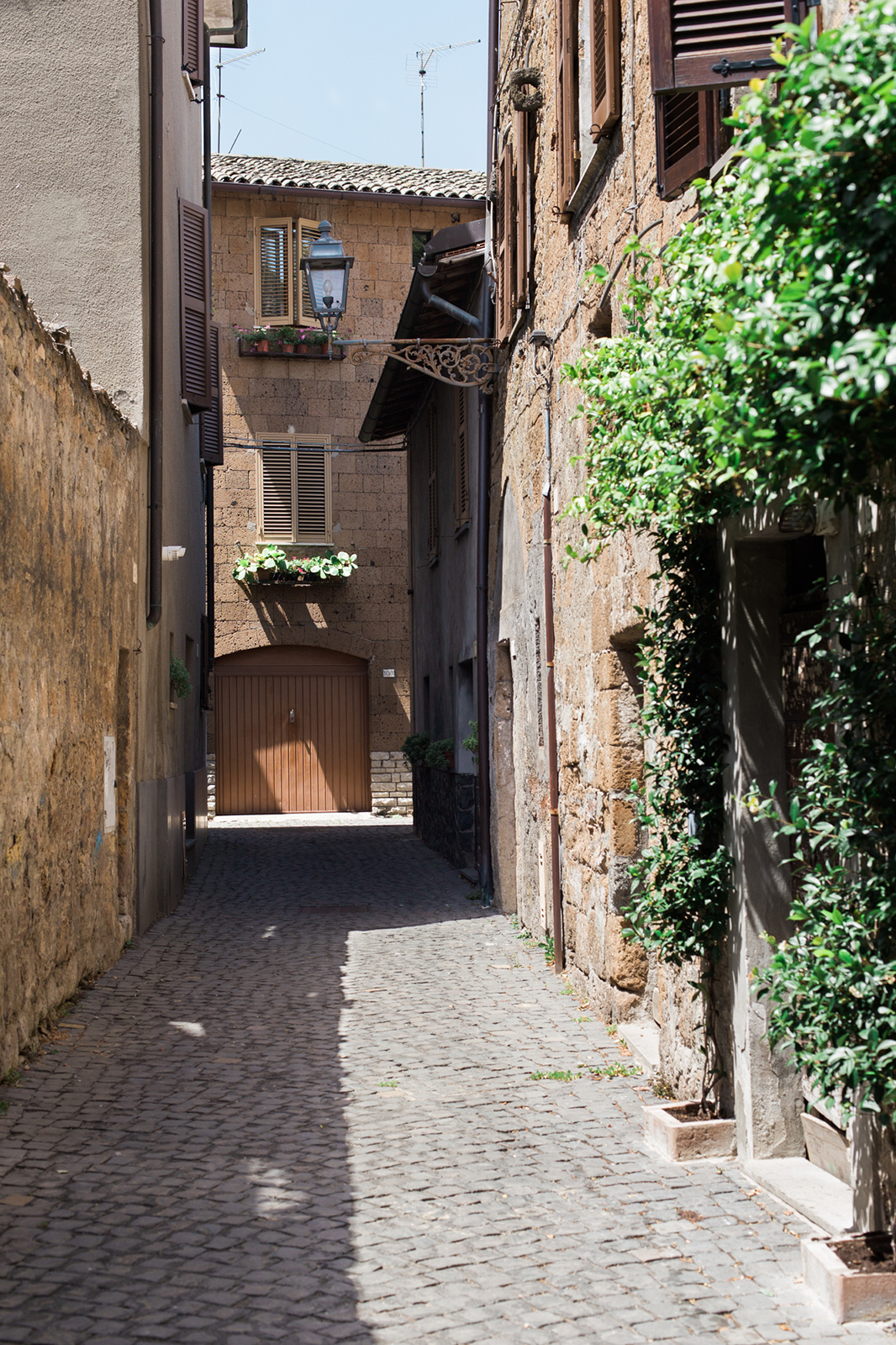 the charming street  our apartment was located on
We had a failed attempt for a day-trip to Civita di Bagnoregio. (Trust me, check this place out!) So instead, we had a slow, relaxing visit seeing the sights in Orvieto. We went down into Pozzo San Patrizio (St. Patrick's Well), walked around the Fortezza Albornoz (Fortress), and toured the beautiful Duomo di Orvieto. There is surprisingly LOTS to do and see here while remaining totally walkable and centralized.
We enjoyed two fantastic meals at Pizzeria Charlie and Trattoria la MezzaLuna. Recommended by a former classmate and our Airbnb host, Daniela, respectively. The former had some of the best quality pizza in the region and the latter, the best Carbonara in the world. (You'll have to trust me on this. I'm somewhat of an expert in Carbonara tastings.) Needless to say, we ate well in Orvieto!
Pozzo San Patrizio, sights in town, and a view from the train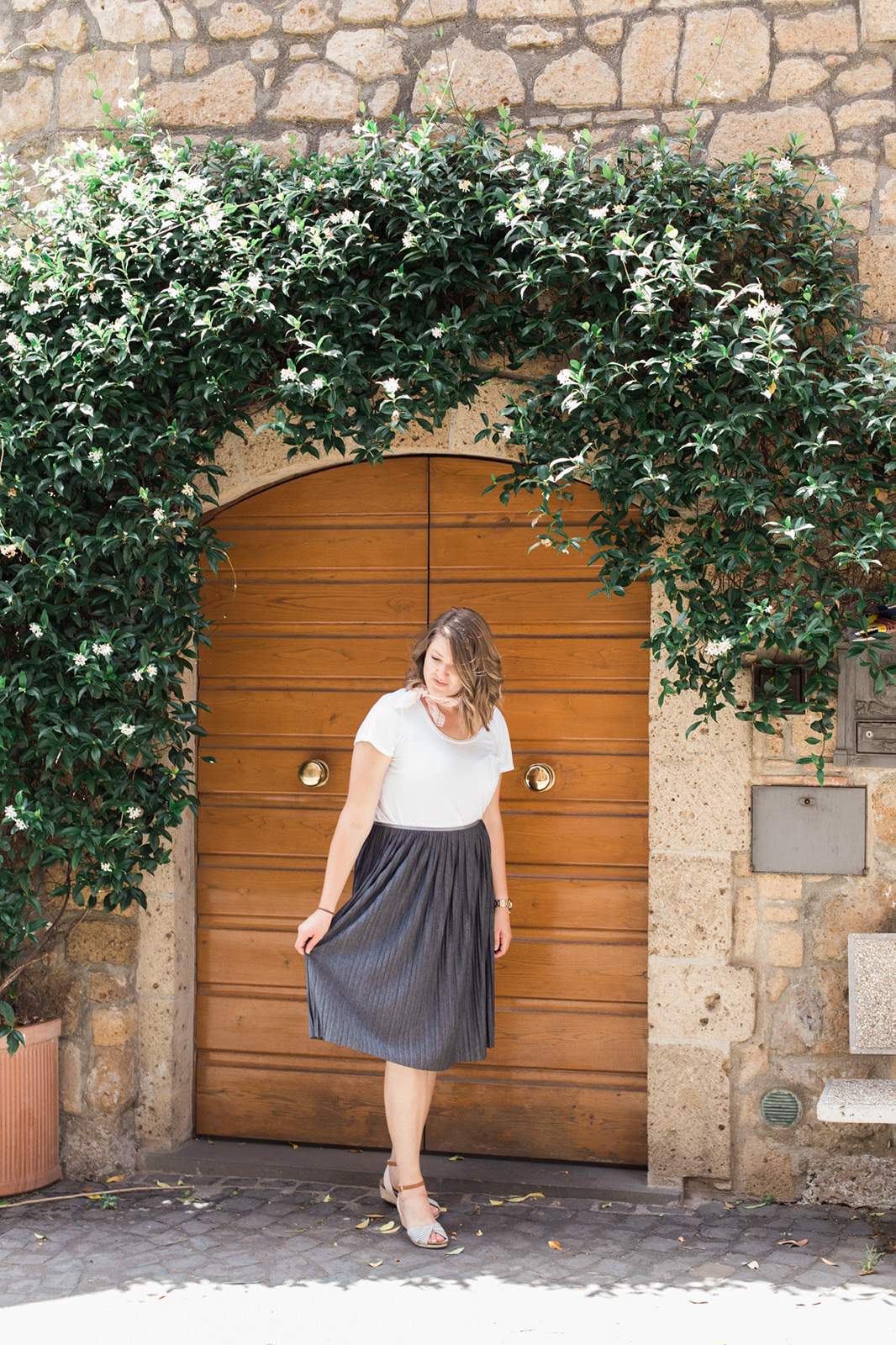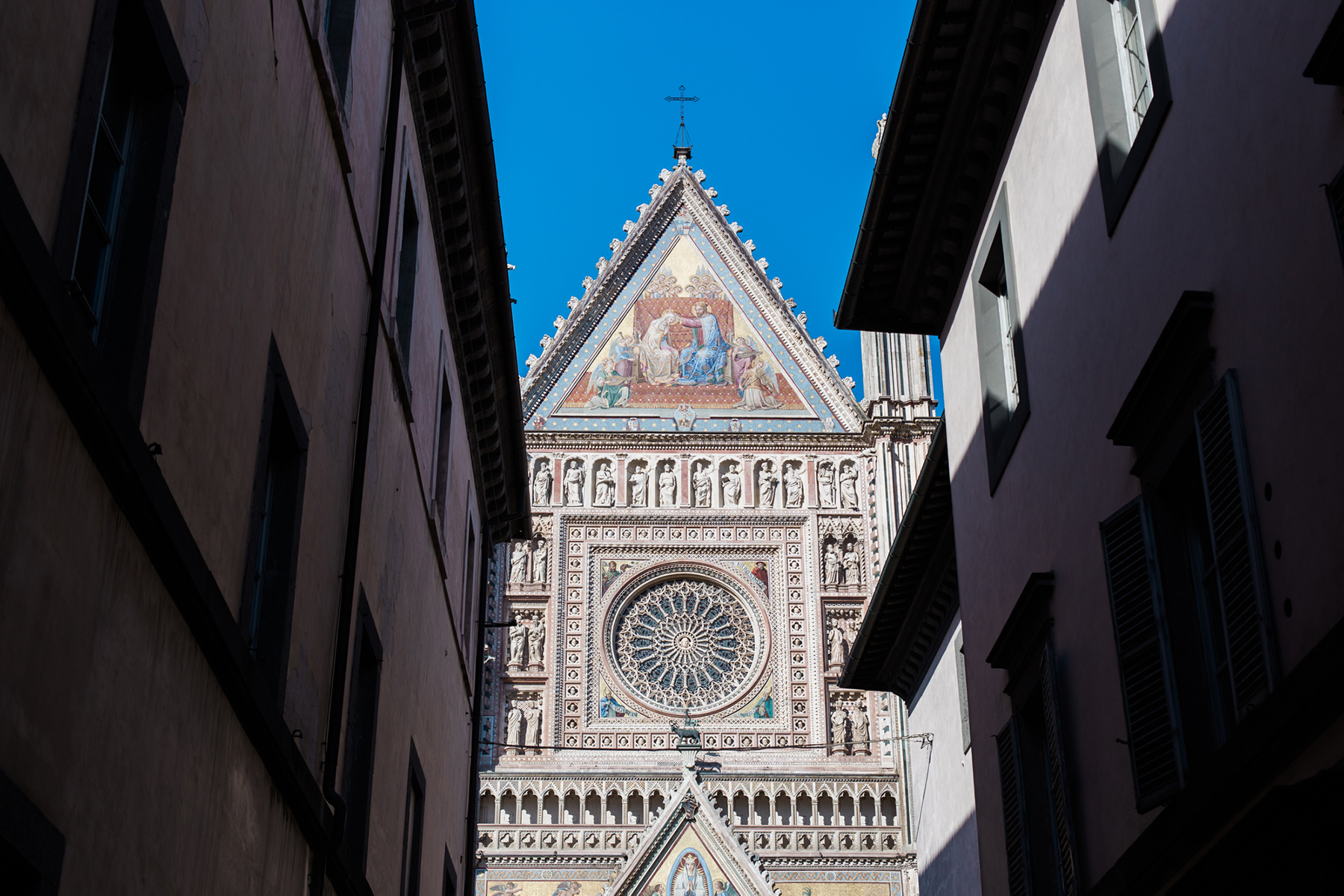 Duomo di Orvieto
Castiglion Fiorentino
Our second stop was the most special of the trip — the place Ben and I started our relationship, Castiglion Fiorentino. A small Tuscan town in the province of Arezzo, Castig is situated on a hilltop with the walled city centre surrounding an Etruscan archaeological site. It is home to the Santa Chiara study center we called home for a semester, and some of the most beautiful countryside in Tuscany (although I may be biased a bit!)
If you are traveling to Italy and want a slow-paced stop on your way from Roma to Firenze, Castiglion Fiorentino is a convenient, scenic, and all-around perfect location. We stayed in another adorable apartment right in the city centre. It had all the modern amenities and an amazing patio with an overlooking view that we took advantage of every chance we could.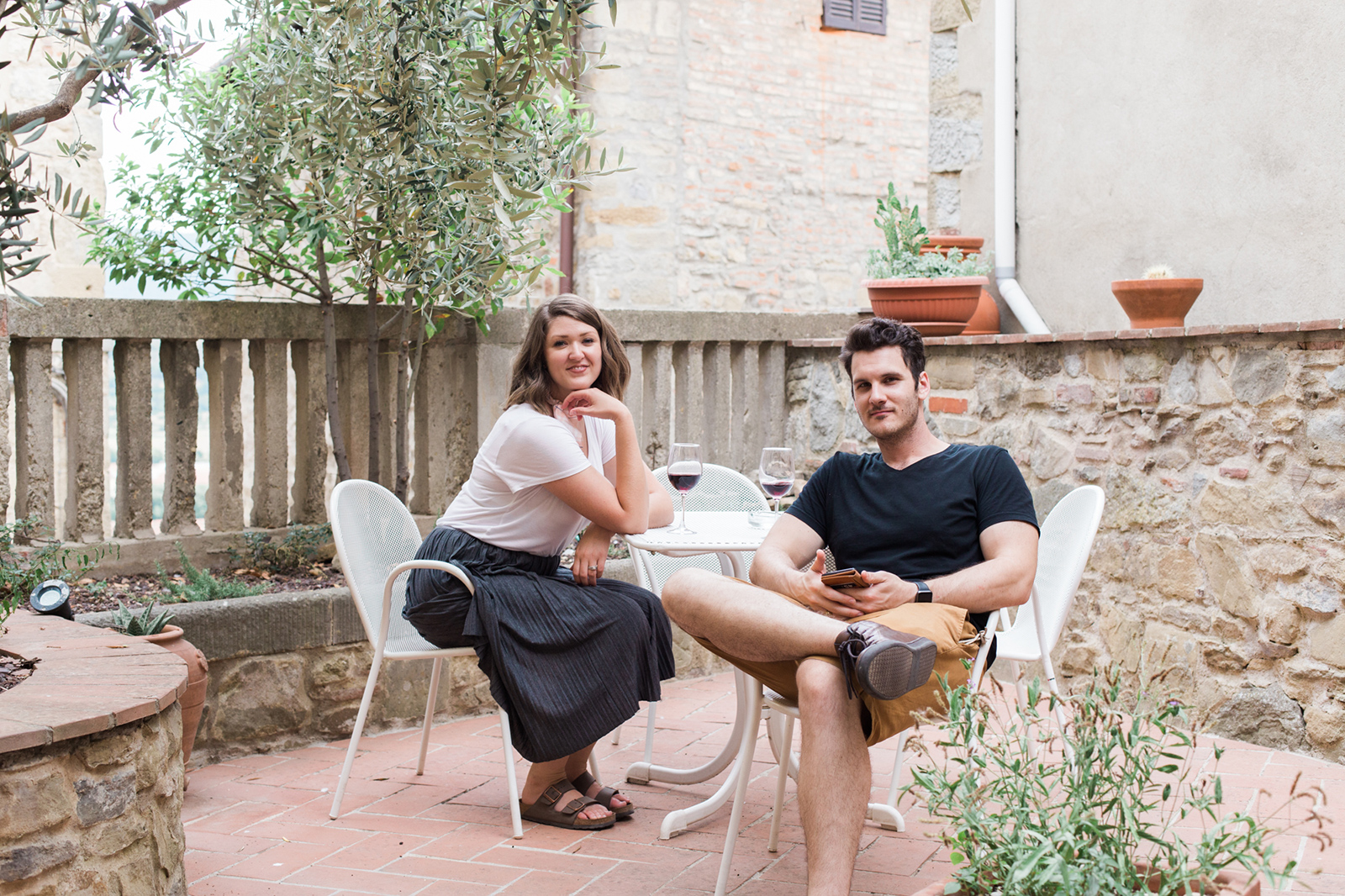 The first night we had dinner at a local outdoor bar called The Garden. It's a very lively spot during the summer with live music, light dinner, and drinks. The second evening we made dinner reservations at Ristorante da Muzzicone — a little more upscale and located within the Piazza San Francesco. The Pici al Cinghiale (pasta with wildboar's meat), Tuscano Misto (the best charcuterie board of my life), and steak tagliata were our choices.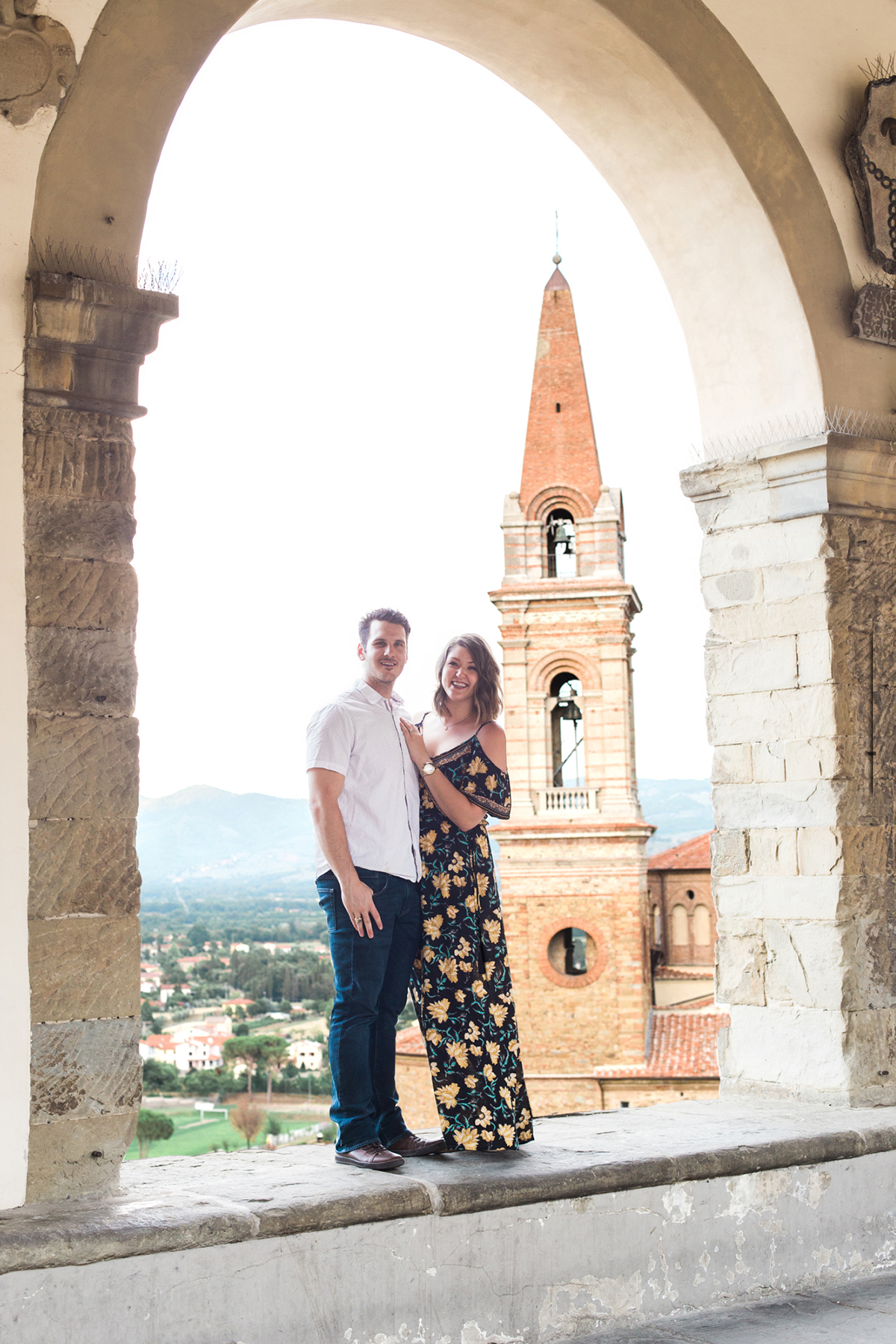 The loggia with views of Santa Chiara
Cinque Terre
We ended out our vacation on the beautiful Italian Riviera coast. And although I would definitely NOT consider Cinque Terre "less traveled" or "countryside," I wanted to include it anyway if not just to show off the amazing photographs.
For those unfamiliar, Cinque Terre stands for "five lands." As you can probably gather, it is literally made up of five lands: Riomaggiore, Manarola, Corniglia, Vernazza, and Monterosso. Although I can't speak from experience on accommodations in 4/5, we loved every minute of our stay in Vernazza.
I mean, c'mon!
The lands have hiking paths between them with the longest (and most difficult) stretch between Vernazza and Monterosso. The views are every bit worth the climb! Plus, once we arrived in Monterosso, we were able to enjoy the best beaches of the five lands as a reward. We ended up deciding against hiking to the remaining three lands, but still took the short train to Manarola to snap a few pictures off of the neigboring bluff.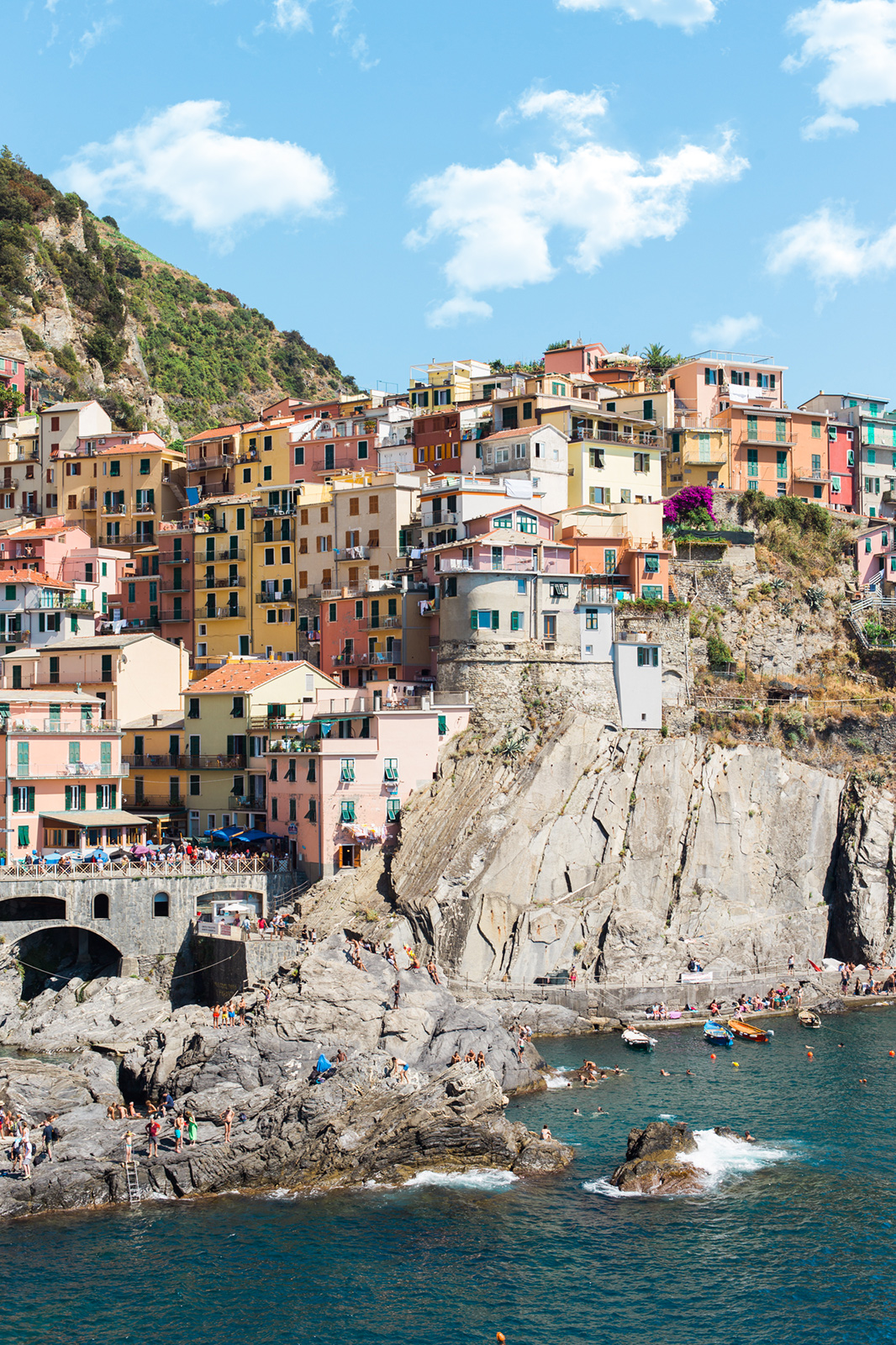 Manarola
In Vernazza, we were able to enjoy fresh seafood and Trofie alla Pesto, visits to a local castle, jumps from shallow rocks into the Mediterranean Sea, and relaxation on the pier with a bottle of wine. It was a perfect end to an unforgettable trip.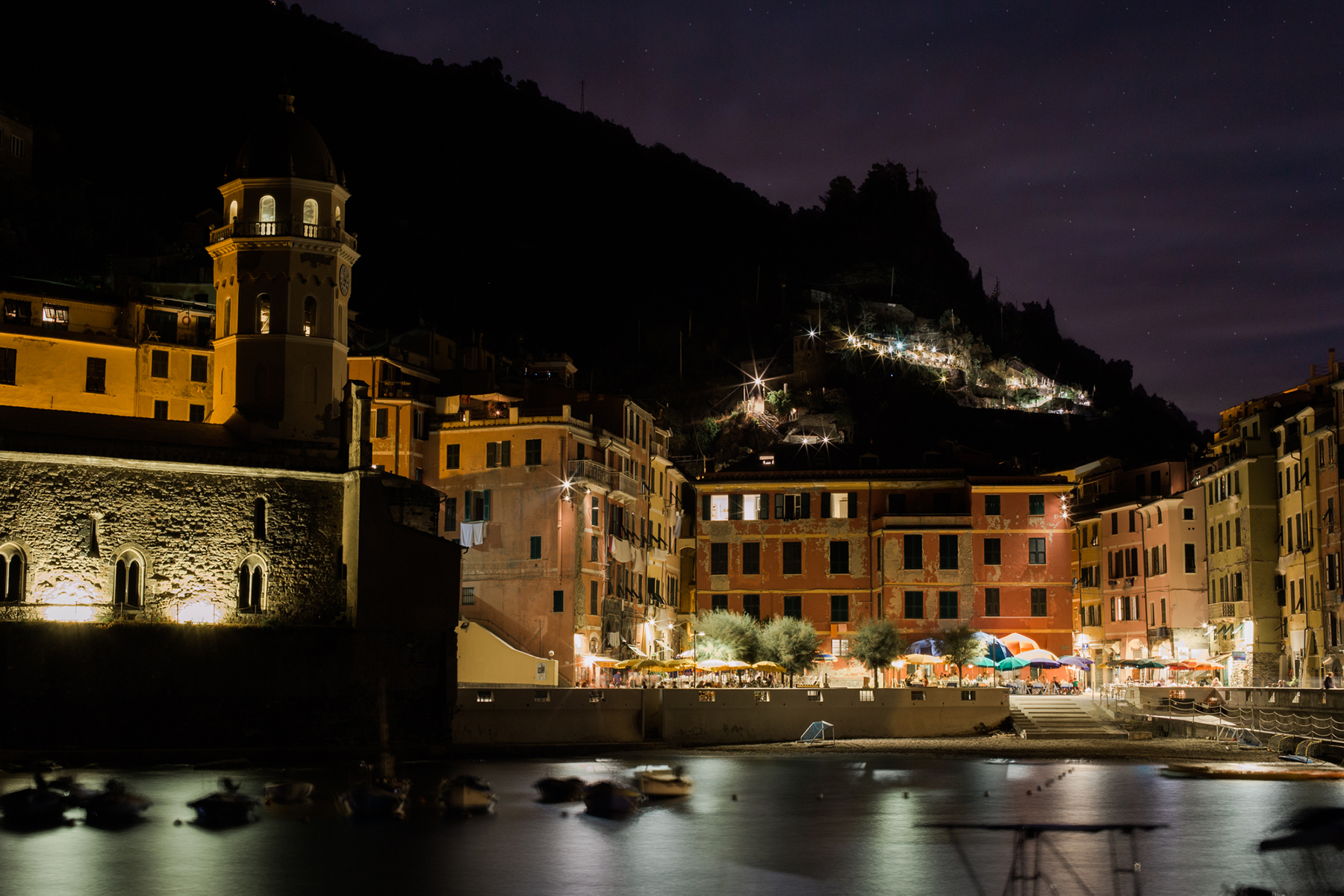 View from the pier into Vernazza at night
---
If you are visiting Italy for the first time and need to see the popular spots first, I've still got you covered! Here are my lists of MUST-SEES and travel tips for Firenze and Venezia to print off before your vacation.
As always, I'm happy to answer any additional questions about these or other locations in Italy. I have recommendations for most of the larger cities as well as several smaller Tuscan towns.