11 New York Eats That New Yorkers Love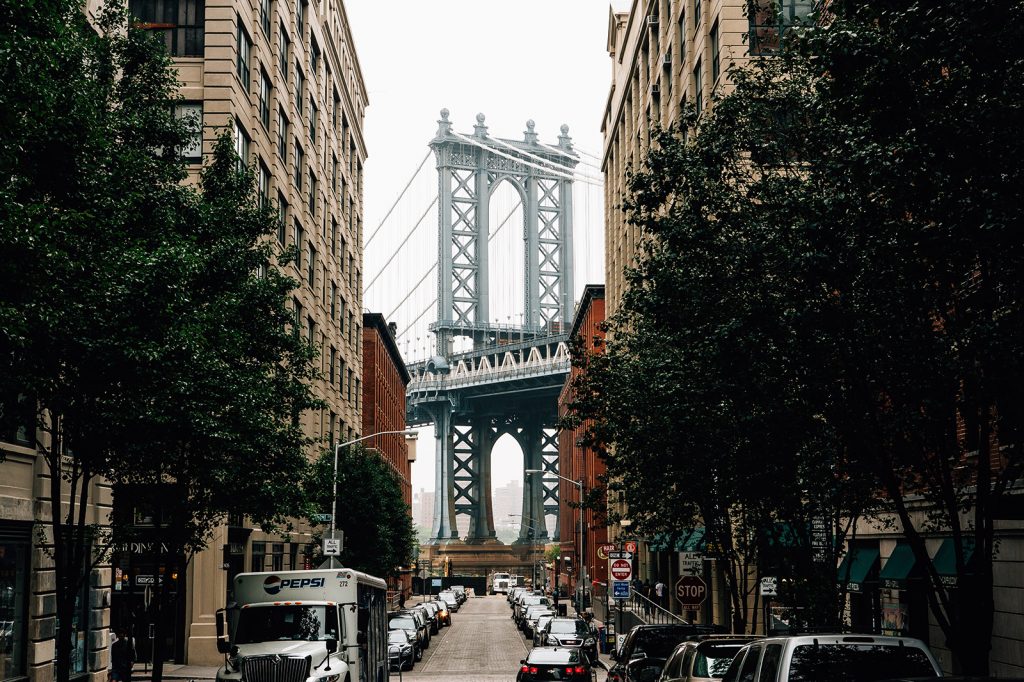 New York, New York is a vast city with unlimited options for food. So many options, in fact, that it's almost impossible to choose just one without the intense side effect of FOMO. You can read about the best places to eat from lists online, but then you have to wonder — Are these people from New York or just being paid by the restaurants for advertisement? Well, fear no more! I have enlisted the help of four lovely (and trusted) locals who are more than familiar with the tastes of their fair city. And if you can't trust a New Yorker's opinion on where to eat in New York, who can you trust? 
These ladies have rounded up 11 outstanding eats from all different atmospheres and styles of global cuisine. It's the perfect amount of places to choose from without being too overwhelming for all us Big Apple newbies. 
---
Caitlin Ahmann – Crown Heights, Brooklyn
2 locations in Manhattan + 1 in Queens
There is one in Midtown on 56th between 5th/6th, which is great if you are in the neighborhood or if eating at communal tables isn't your thing. However, to get the true experience, you should go to the Joe's in Chinatown. You sit at tables of 4-8, so if you're a smaller party, you will get to eat with a group of strangers who quickly become friends. You giggle with parents whose kiddos are testing their culinary comfort zones, or experience those first date jitters with a new, blossoming couple. Beyond being just a fun, very New York joint, Joe's has THE BEST pork soup dumplings in the city. Hands down. They also offer crab soup dumplings if pork isn't your cup of tea. But if you don't have dietary restrictions, please get the pork, ok? They are the perfect little pockets of heaven, filled with a rich broth that is brought to life with the tangy sauce they give you. Pair that with the perfect texture of the dumpling, and it's a match made in heaven. Everything is served family style for your individual party, so order a few different items and go to town! I've never gotten anything I didn't love.
3 locations in Manhattan
I love seafood, but I never really understood the beauty of oysters until I moved to NYC…and Mermaid Inn has great oysters. All of their locations are small and intimate, and the food is KILLER. They offer happy hour every day where they feature $1 oysters as well as awesome drink specials, which is great for a girls night. It's hard not to feel special or fancy when you are sipping prosecco (even if it is on special for $5). This is a place that really finds the balance between being nice without feeling stuffy, and each location has it's unique menu offerings. You can have a relaxed, enjoyable evening, without breaking the bank, which is rare in NYC. Plus! They give you these adorable little servings of chocolate pudding when you are finishing up. I never knew a pudding cup could make you feel special, but this one does the trick. 🙂
1433 Bedford Ave
This one is a personal fave from my neighborhood. This is Louisiana/southern comfort food to the max. It's a great spot for an awesome brunch (their Creole Bloody Mary is amazing) or a relaxed date night (there aren't words for the Duck Gumbo, the Shrimp 'n Grits, or the Catfish Po' Boy). They feature old school, classic cocktails which I always love, and the service is great. Be prepared and wear your most comfortable pants or dress, because I have never left without a massive food baby. It's a bit of a hike out of Manhattan, but it's definitely worth it to have some great food and the bragging rights that you're in the know of places that real New Yorkers eat.
---
Abbey Roam – Harlem, Manhattan
5 locations in Manhattan
In case you didn't know, this is the go-to dessert place in NYC. They have your traditional cupcakes, cookies and cakes that are good (as those things should always be), but the thing you must walk away from here with is their banana pudding. Even if you don't think you like banana pudding — you are wrong. My inside, New-Yorker tip is to skip the ridiculous line by just ordering at the register and getting on your way. They have convenient locations in Grand Central, Rockefeller, Meatpacking District, and the Upper West Side. Plus, there is now a Magnolia in Penn Station. That means you can always grab one on your way to visit friends and family as a surprise or a substantial snack for the road.
761 9th Avenue
I have to suggest this quaint taphouse in Hell's Kitchen because I've now been there been 3 times, and that is an extreme patronage by any New-Yorker's standards. Their eggplant chips drizzled in honey keep me coming back for more. If a laid-back restaurant with great appetizers, finger foods, and beer selection is your jam, Jasper's is the place for you. It's also just a hop and skip (no jump) over from Times Square, making it perfect for a quick break from sightseeing or a snack after a show.
---
Amy Oliver – Lower East Side, Manhattan
325 Bowery
This nice yet still casual Italian restaurant is on the Lower East Side. My personal favorite dish is their Ricotta Pancakes on their brunch menu. It's a really great place to go on a Saturday morning just to hang out with some friends, relax and have a good time. It's located on East 2nd and Bowery.
2 locations in Manhattan
My absolute favorite place to go eat in the city that I take all of my friends and family to is Big Daddy's. It's an 80's themed diner with walls covered in memorabilia from that time and an entirely 80's themed menu. When you go, you have to get their mac and cheese. I promise, it'll change your life. Add a milkshake and you'll be set (in my opinion). But the rest of the menu is just as good! It's just a really fun, casual place to go hang out with friends or to throw a party.
---
Jennissa Barker – Upper East Side, Manhattan
6 locations in Manhattan + 1 in Brooklyn
Have you ever followed a restaurant on Instagram and commented on so many of their food photos that they eventually followed you back? Well, that's me and The Meatball Shop. This Italian restaurant comes with a laminated menu and dry erase marker for your selections, and I would suggest that you do not pass up the buffalo chicken meatballs and homemade ice cream sandwiches!
2 locations in Manhattan
This Mediterranean restaurant has two locations, one in the UES (Upper East Side) and one in Meatpacking. Put on your high heels, grab your girlfriends, and head downtown to the Meatpacking location for a trendy night out. Fig and Olive is also a great selection for a weekend prix fixe brunch downtown, in the heart of all the action.
---
Alice Decker – Out of Town
Okay, so I'm not a New Yorker (obviously). But, I feel like I should get to throw in my two cents of restaurants I have fallen for. I am technically the "author" of this article after all.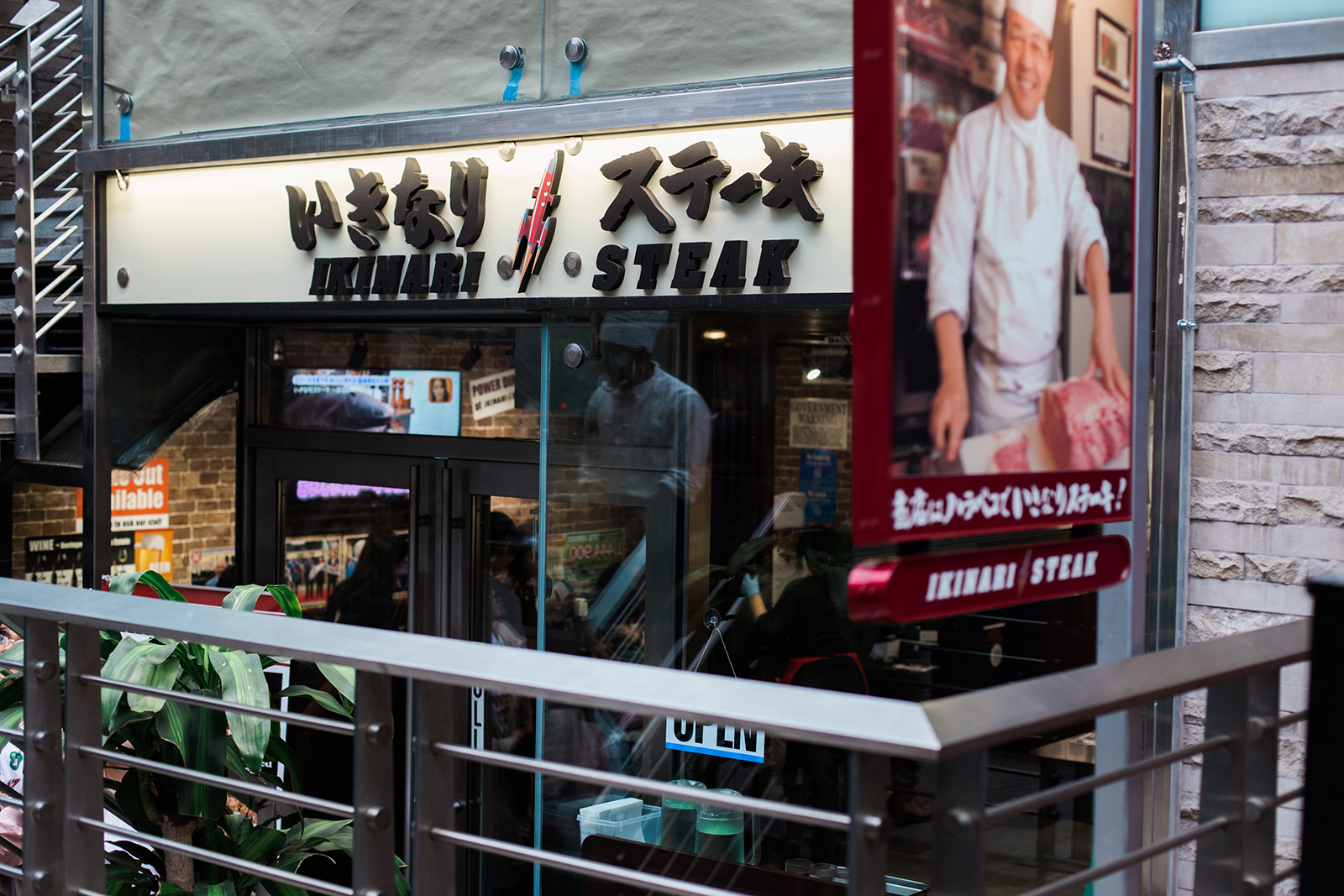 90 E. 10th St.
To be honest, we really only visited this Japanese Steak establishment because Ben saw a Buzzfeed article about it and had steak on the brain for the following two weeks. But for being featured on such a tourist-trafficked site, it seemed to patroned primarily by the city's Japanese population. So we already had a good feeling before the incredible meal spoke for itself. The simple menu and casual atmosphere where you stand to eat make it ideal for an eat-and-go style. Just select your steak cut and the chef cooks it fresh and serves it steaming hot, straight to your table with any desired sides. Food was also reasonably priced with no wait time on a Friday night at 7:00 PM.
East 45th & Vanderbilt
If you are visiting the city with a group OR just want to try out multiple, chef-inspired dishes in one sitting, go to the Urbanspace Vanderbilt. It's basically a mini hipster food court with everything from donuts and pressed juices, to Korean BBQ and sushi burritos. There are 20 food concepts in total that rotate throughout the year, making for a truly unique dining experience. Absolutely a little something for everyone! Located right outside Grand Central with a second location in Midtown opening later this year.