Packing List for a 10-Day Trip to Europe
When Ben I got married in 2012, we decided we would go back to the place we met and started our relationship for our 5-year anniversary. It's hard to believe the time has passed so quickly, but here we are, about to embark back to our beloved Italia. We are attempting to fit a lot of traveling into a 10-day visit, including stays in Bologna, San Gimignano, Castiglion Fiorentino, Firenze, and Cinque Terre. Therefore, being overly organized with my packing is an absolute necessity! Today, I'm sharing my packing list, tips, and tried and true staples with you.
Before we get started, I've included a "Packing for Italy" video I made back in 2011 before my study abroad program began. It should give you a pretty good idea of what my husband has to deal with on a daily basis.
Now that we've got that out of the way, let's get down to brass tax. PACKING — An anticipated yet unappreciated and somewhat agitated event before every trip. Due to its overwhelming nature, I like to break my packing down to three T's: travel, threads, and touring.
1. Travel. Think about what items you'll need for your transport and how you can have them handy
passport, books, puzzles, earphones, music/video downloads, travel pillow, sweater/jacket, etc.
2. Threads. Track the days of your trip and make sure you have the proper amount of outfits needed without OVER-packing.
shirts, pants, sleepwear, makeup, toiletries, etc.
3. Touring. Consider what you will want to have with you as you sightsee through your locales.
camera, daytripping bag, poncho/umbrella, hat, water bottle, etc.
Making the most out of your space always goes back to outfit selection. Choosing separates that transition well and go with multiple pieces is the best way to go. That way you can cut down on the bulky items like jeans, pants, and jackets. Including a nice mix of dresses and rompers is another way to minimize your apparel. I've packed multiple dresses in varying lengths that I feel really give me a nice selection, and also work perfectly for dinners out on the town.
When it comes to shoes, I don't skimp — Especially on a trip where LOTS of walking is involved. My feet tend to not fair well in the same pair for extended periods of time, so I like to give myself several options for wear. And, you know, I also just love shoes! I went with four different kicks for our Europe adventure: New Balance tennies, super comfortable Clarks slip-ons, Birkenstock sandals, and a little dressy espadrille wedge option from Target.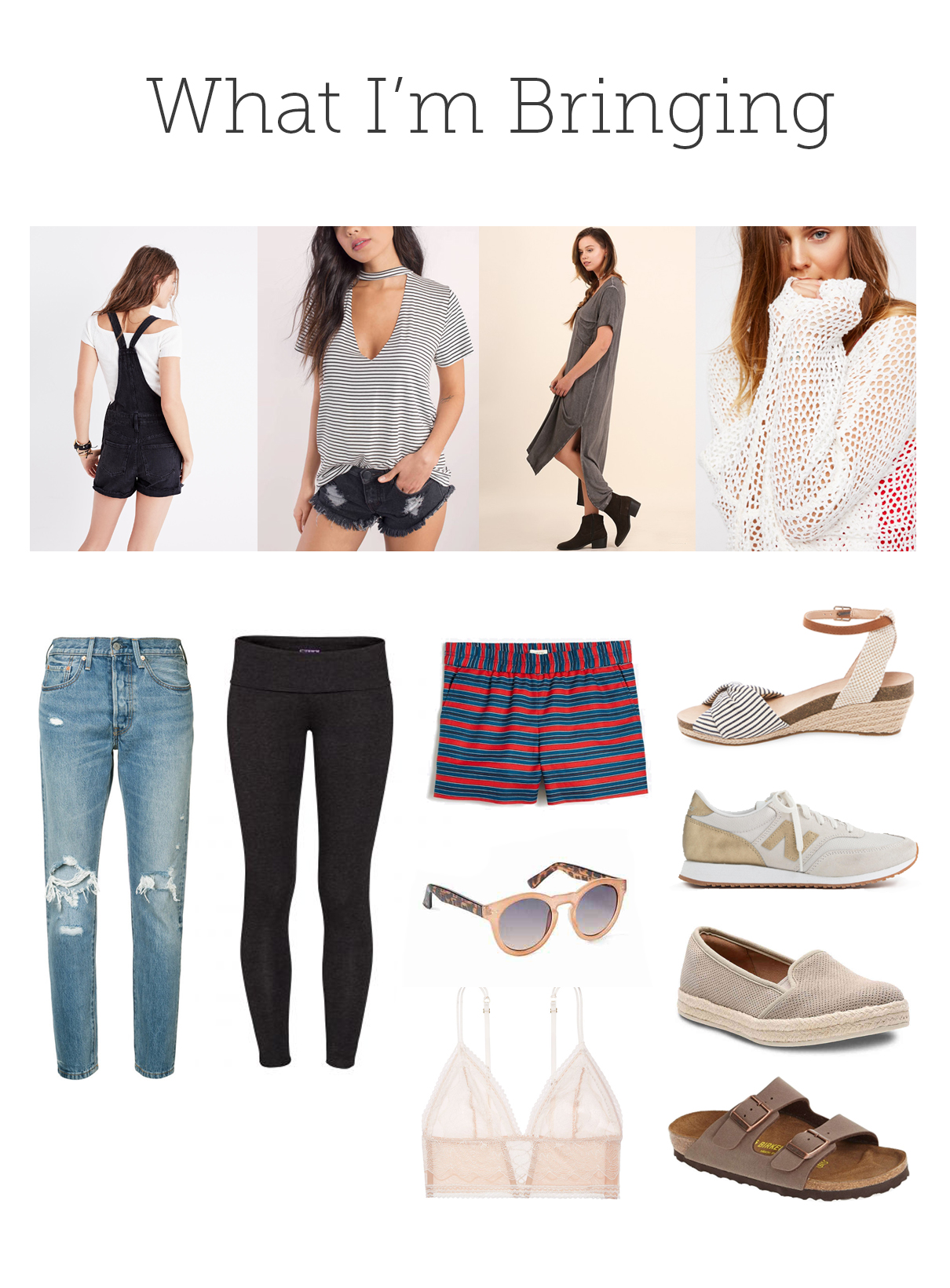 Midi Dress   |   B&W Stripe Tee   |    Romper
Striped Shorts   |   Jeans   |    Leggings    |    Overalls
Sneakers   |   Slip-ons  |   Sandals   |   Wedges
If you are planning an excursion of your own in the near future, I've included a Packing Checklist to get you started. It is ideal for backpacking and light cargo. Enjoy!