3 Easy & Refreshing Popsicle Recipes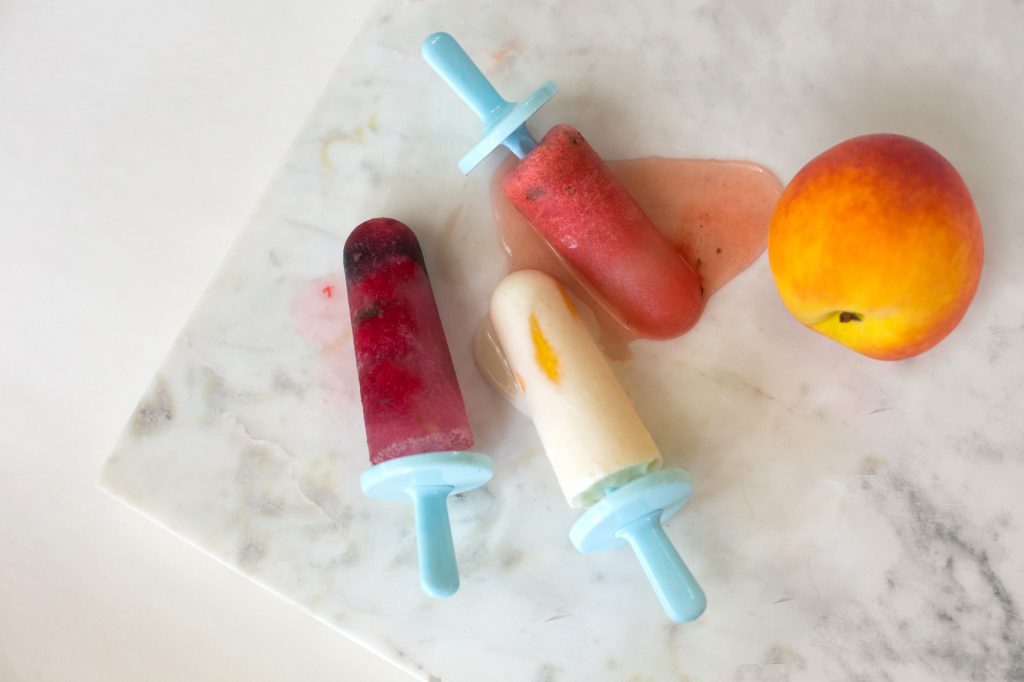 There is nothing better on a hot summer day than a cold popsicle. Homemade popsicles are all the rage these days. You can find molds online for less than $10! You can also use paper cups with craft of popsicle sticks. Just peel the paper away once the liquid is frozen. Plus, making them at home is fun activity to do with a loved one and can save some money. You can experiment with different flavors and can leave out all of the additives and excessive sugar often found in the popsicles at the grocery store. It's a win-win-win.
Today, I'm sharing 3 different popsicle recipes to cool off your weekend. Bonus – each of these can be spiked for an adult version or left alcohol-free for the kiddos.
Watermelon-Lime Agua Fresca Popsicle
Ingredients:
1/2 medium seedless watermelon, sliced
Juice of 2 limes
Optional:
Mint
Vodka, to taste
Instructions:
Blend the watermelon and lime juice until the consistency of the liquid is consistent.

Add in vodka if using. Blend until combined.

Add mint and gently stir. Let sit for at least 1 hour for mint flavors to develop. If sitting for longer than 1 hour, refrigerate.

Discard the mint if using. Blend the mixture for a few seconds as the liquids will separate.

Pour into popsicle molds and freeze until desired texture.
Berry-Rose Sangria Popsicle
This one is already an adult version. If you want to make this for kids, you can substitute the rose with diluted pomegranate or cranberry juice. Try to find one without added sugar.
Ingredients:

1 bottle Rose
½ pint raspberries
½ pint blueberries
½ pint blackberries
½ green apple, thinly sliced
1 lime, thinly sliced
Simple syrup, to taste
Instructions:
Combine all ingredients in a pitcher. Gently stir to combine the fruit.

Cover and refrigerate for at least 2 hours.

Taste before pouring into popsicle molds. Freeze until completely frozen. Enjoy
Creamy Peach and Honey Popsicle
Ingredients:

2 cups plain Greek yogurt (I buy full-fat for extra creamy)
¾ cup honey or to taste
3 cups sliced peaches (can be fresh or frozen – if using frozen, thaw before use)
Optional:
Rum, to taste
Instructions:
Combine yogurt, honey, half of the peaches, and rum if using in a blender. Blend until smooth.

Add the remaining peaches and stir to combine.

Pour into popsicle mold and freeze until completely frozen.