Coconut Cream Cake // Your New Favorite Holiday Dessert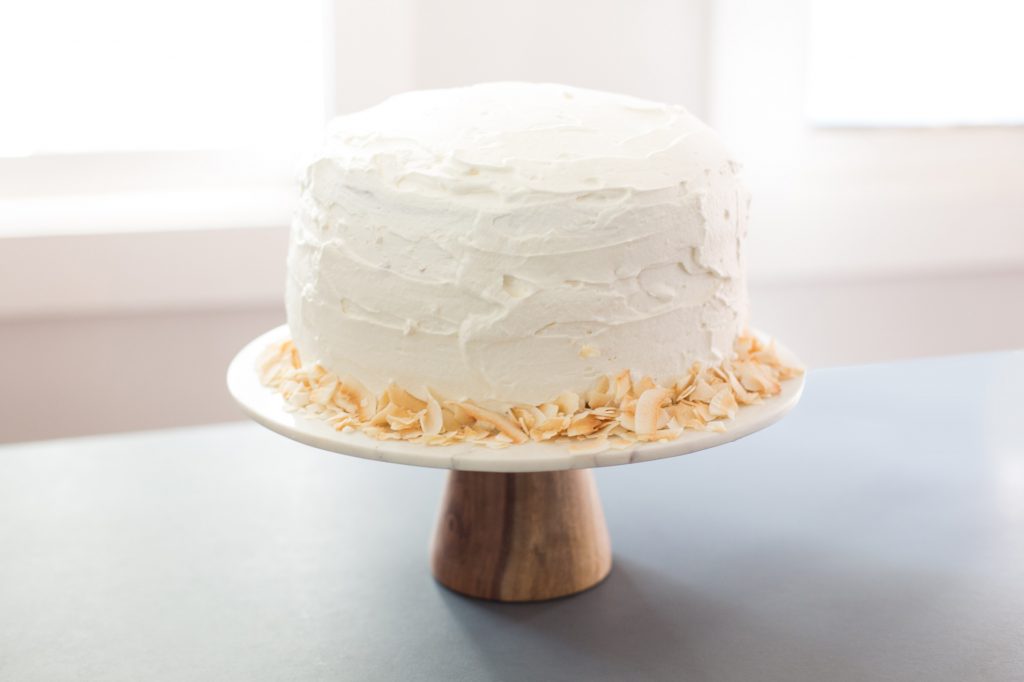 My husband LOVES coconut cream pie for any occasion – birthdays, Christmas, 4th of July, Earth Day, Tuesday – you catch my drift. Furthermore, my Gram is the master of all things sweet, and coconut cream pie just happens to be one of her specialties. To make a long story short, my pie pales in comparison to her pie so I had to find my own dessert niche in our family. Hence, the coconut cream cake. This cake was actually a Godsend when I first saw it in Southern Living Magazine in 2015. The recipe below is adapted from said article originally featured in Southern Living. I personally guarantee it will kick your holiday celebration up a notch.
*Disclaimer* I am all about finding healthy alternatives to desserts and comfort foods, and I truly enjoy and appreciate real, natural, unprocessed ingredients. However, I also value balance and realize that we all need to live a little.
Coconut Cream Cake
Filling Ingredients
3/4 cup sugar
1/2 cup cornstarch
1/4 teaspoon table salt
6 large egg yolks
1.5 cups half-and-half
1.5 cups coconut milk
1.5 cups sweetened flaked coconut
4.5 tablespoons butter
1.5 teaspoons vanilla extract
1/2 teaspoon coconut extract
1.5 cup heavy cream
Cake Ingredients
1 cup butter, softened
2 cups sugar
4 large eggs
3 cups cake flour
1 tablespoon baking powder
1/2 teaspoon salt
1/2 cup milk
1/2 cup coconut milk
1 teaspoon vanilla extract
1/2 teaspoon coconut extract
Coconut oil
Coconut Icing Ingredients
3 cups heavy cream
1 teaspoon vanilla extract
1 teaspoon coconut extract
⅓ cup sugar
Optional: toasted coconut flakes
To prepare filling:
Combine sugar, cornstarch, and salt in a heavy saucepan and whisk until combined.

Combine egg yolks, half and half, and coconut milk in a large bowl and whisk.

Gradually add egg mixture into sugar mixture while whisking. Whisking constantly, cook over medium heat until the mixture starts to bubble (approximately 7 minutes). Continue whisking for 1 minute before removing from heat.

Add flaked coconut, butter, vanilla extract, and coconut extract and whisk together.

Pour mixture in a medium bowl and cover with plastic wrap (let it directly touch the filling to prevent a film from forming on the top). Let the mixture cool to room temperature before chilling in the refrigerator for 4-24 hours.
To prepare cake:
Preheat oven to 350 degrees. "Grease" two 9-inch cake pans with coconut oil.

Beat the butter at medium speed. Once creamy, gradually add the sugar until the mixture has a "whipped" consistency and looks fluffy.

Add the eggs, one at a time and beat until just combined.

In a medium bowl, mix the cake flour, baking powder, and salt. In another medium bowl, combine the milk and coconut milk. Add these mixtures (alternating) to the sugar/butter mixture starting and ending with the flour.

Add the vanilla extract and coconut extract and pour evenly into the two cake pans.

Back for 25-30 minutes or until a toothpick can be stuck into the center and come out clean. Once finished, remove from the oven and let cool to room temperature.
To prepare icing:
Beat heavy cream, vanilla extract, and coconut extract at medium-high speed until foamy, approximately 2 minutes.

Gradually add sugar until stiff peaks form.
Assembling the cake:
Beat the 1.5 cups of heavy cream left in the filling ingredients list until stiff peaks form. Fold the whipped cream into the filling mixture using a sturdy stirring utensil like a wooden spoon.

Cut both cakes in half horizontally with a serrated knife. To finish assembling, place one of the cake layers (cut side facing up) on a serving platter. Alternate the cake layers with approximately 2 cups of filling. End with the last layer of cake (cut side facing down).

Ice the entire cake with the coconut frosting.

Garnish with toasted coconut flakes.

Indulge and enjoy!