Winter Must-Haves Under $50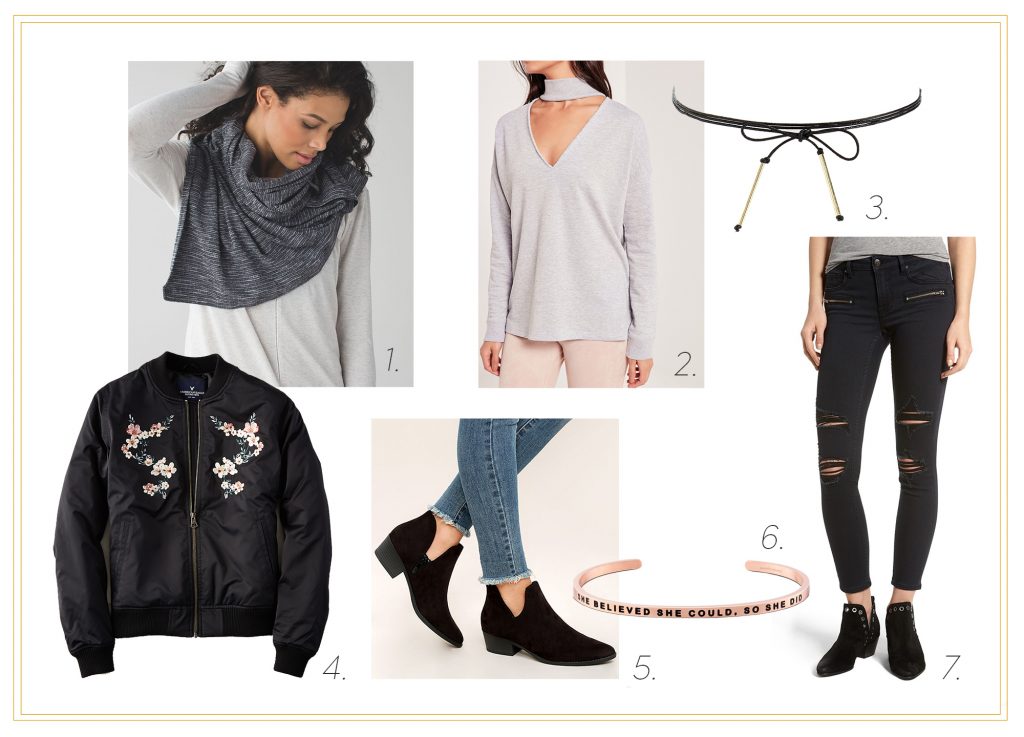 I just love winter fashion. It's a win, win. Super cute and can we talk about how comfy everything is?! I've compiled some of my favorite winter must-haves that are under $50. Most items are on sale so if you love, make sure you purchase soon. That's one thing about marked downs, they go fast! Also, these items are at a perfect price point for your last minute Christmas shopping needs.
1. Vinyasa Scarf – lululemon athletica ($48)
I worked at lululemon for over two years and this is one of my  all-time faves. You can wear it multiple ways and it is super warm.
2. Choker Neck Sweatshirt – MISSGUIDED ($40)
I love this sweatshirt because it's sassy AND comfy. You could totally dress this one up or down.
3. Metal Tipped Wrap Choker – BP ($15)
Chokers are my jam. I love to layer them with long necklaces or when I'm not sure what jewelry to wear, I just throw one on.
4. Embroidered Bomber Jacket – AEO ($42)
I haven't shopped at American Eagle since high school but this bomber is bomb.com. Plus, it's super marked down. You need it.
5. Black Suede Cutout Ankle Booties – lulu's ($28)
These are designer inspired and I'm loving the price. I think I might just order them for myself!
6. She Believed She Could' Cuff – MantraBand ($25-$35)
This might be my favorite gift to give. They have all different inspirational sayings that uniquely fits you or the person you are shopping for.
7. Distressed Zip Skinny Jeans – Vigoss ($41)
I think I wear my distressed black jeans every other day. Seriously. They go with everything!
Did I miss anything? If you have any of your own winter styling tips, please let us know by commenting below! We would love to hear from you.