10 Stocking Stuffer Ideas for Him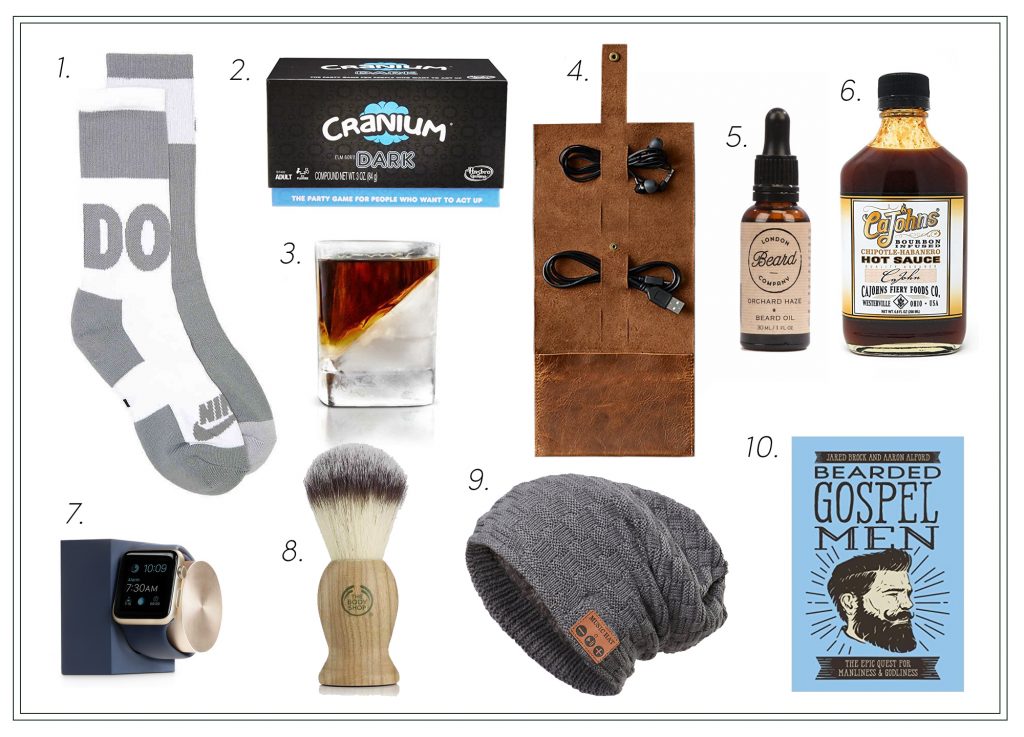 I am a firm believer that you can never have too much inspiration when it comes to Christmas gifts for guys. They can be difficult to shop for, and especially when searching for inexpensive stocking stuffers they will ACTUALLY use and appreciate. This list comes from past experience and creative forethought, with a nice blend of fun + functional — so there is a something for all the men on your list! Enjoy these 10 ideas and take the guess work out of gifting for your favorite dude.
1. Nike Graphic Socks
For the trendy athlete. Socks may not always be the most exciting gift, but probably a commodity that your guy needs replaced each year. These graphic socks from Nike are a fun, retro way to keep him styling at the gym and on the run.
2. Cranium Dark
For the social gamer. Adult versions of your favorite card games have been growing in popularity. This darker take on Cranium is packed with party pleasing entertainment and the perfect size for a stocking stuffer.
3. Whiskey Wedge
For the dapper drinker. Because the top two priorities of your whiskey fan should be keeping his drink cold and looking like a total class-act. I got this for Ben a few years ago and he still loves it!
4. Leather Cord Roll
For the organized techie. This leather cord roll from Restoration Hardware is the perfect combination of style and practicality, keeping your guy's chargers, headphones, and loose cords compact and in tact.
5. Beard Oil
For the bristly babe. Keeping that facial hair fierce is no easy feat. Beard oil helps hydrate and tame, so your groom feels groomed at all times.
6. Bourbon-Infused Hot Sauce
For the sophisticated foodie. Frank met Jack and they made a spicy love-child.
7. Apple Watch Charging Dock
For the gadget guru. Native Union has some of the sleekest Apple watch docks ranging from $29.99 t0 $129.99. Give your guy the gift of a good night's charge!
8. Shaving Brush
For the pampered prince. Working up a thick lather typically translates to a cleaner shave which is why shaving brushes act as a form of masculine mini-facial. Keep costs lower with a synthetic brush like this one from The Body Shop or go all out with an exfoliating badger, boar, or horse hair brush.
9. Bluetooth Beanie
For the lyrical hustler. He'll be able to answer calls hands-free and listen to music on the go with this knit hat with bluetooth compatibility.
10. A Good Read
For the faith-filled intellect. There's no such thing as too many books for the scholar in your life. Books like Bearded Gospel Men and How God Makes Men give him a well-balanced read in manliness + godliness.
Top it off with some Christmas scratch-offs, beef jerky, and gift cards to his favorite coffee shops. He'll be sure to feel the love from head to toe!
Disclaimer: I personally love and and recommend each of these products but please note that some of the links in this post are affiliate links. We will earn a commission if you fall in love too and decide to purchase through those links.