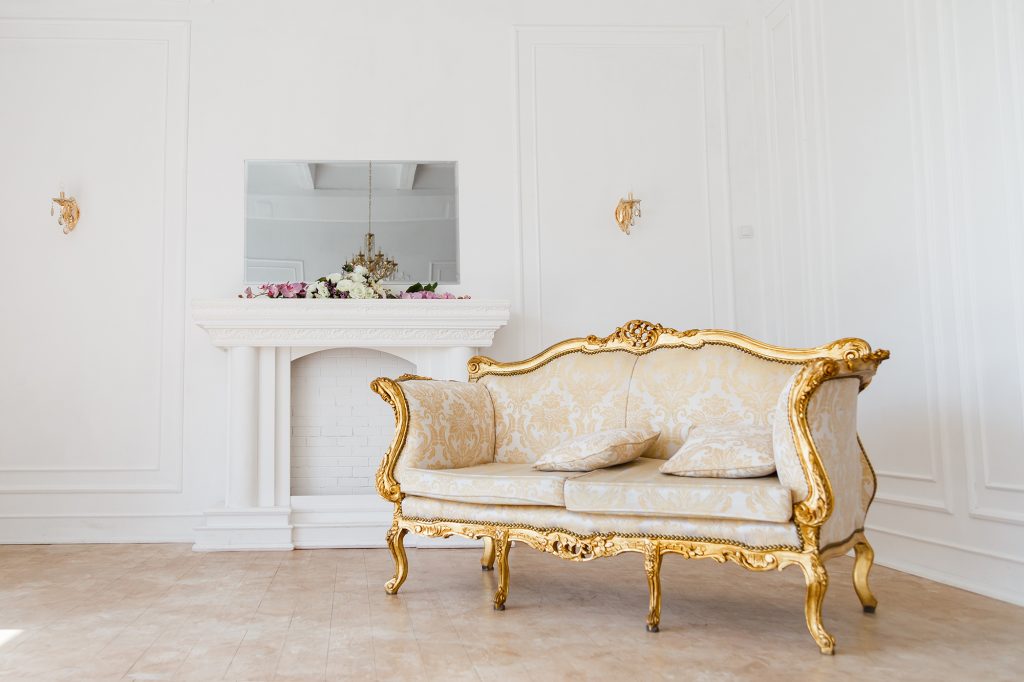 I tend to have a pretty eclectic style. I love historic homes with a modern edge. Some days I am a minimalist and others I'm decorating every corner of the house. I'm definitely always down for a bold print on a white wall. One other thing I will never change my mind about is metal/metallics – gold, copper, aluminum, chrome, brass. If it is shiny, I love it. It brings me pure joy that these beautiful elements are so popular and easy to find right now. Below I have linked some of my favorite pieces for a splurge and some absolutely amazing items that are so budget friendly.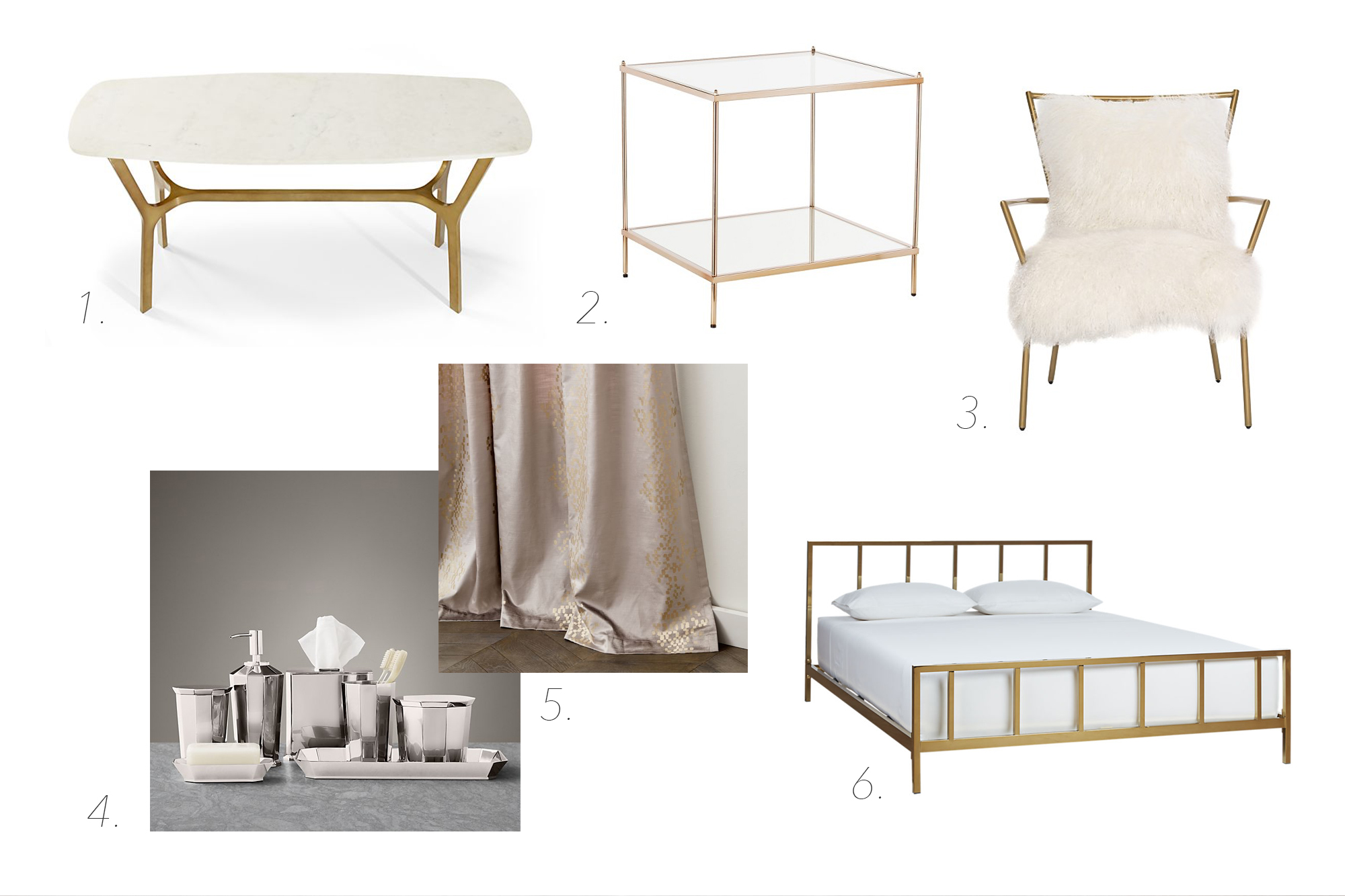 1. Elke Marble Console Table – Crate and Barrel
Marble + metallic – you can't go wrong!
2. Benton End Table – Target
The perfect end table for under $150!
3. Mitchell Gold + Bob Williams Ansel Chair – Bloomingdales
How cool is this 70's inspired chair? If you are looking for a unique piece, this is it!
4. Faceted Metal Bathroom Collection – Restoration Hardware
This collection will add beauty and shine to even the simplest bathroom.
5. Luster Velvet Trellis Curtain – West Elm
These are a twist on the traditional velvet curtains that add a subtle sparkle to any room in the house.
6. Alchemy Bronze Bed – CB2
This super cool bed will add a touch of shine to your favorite room.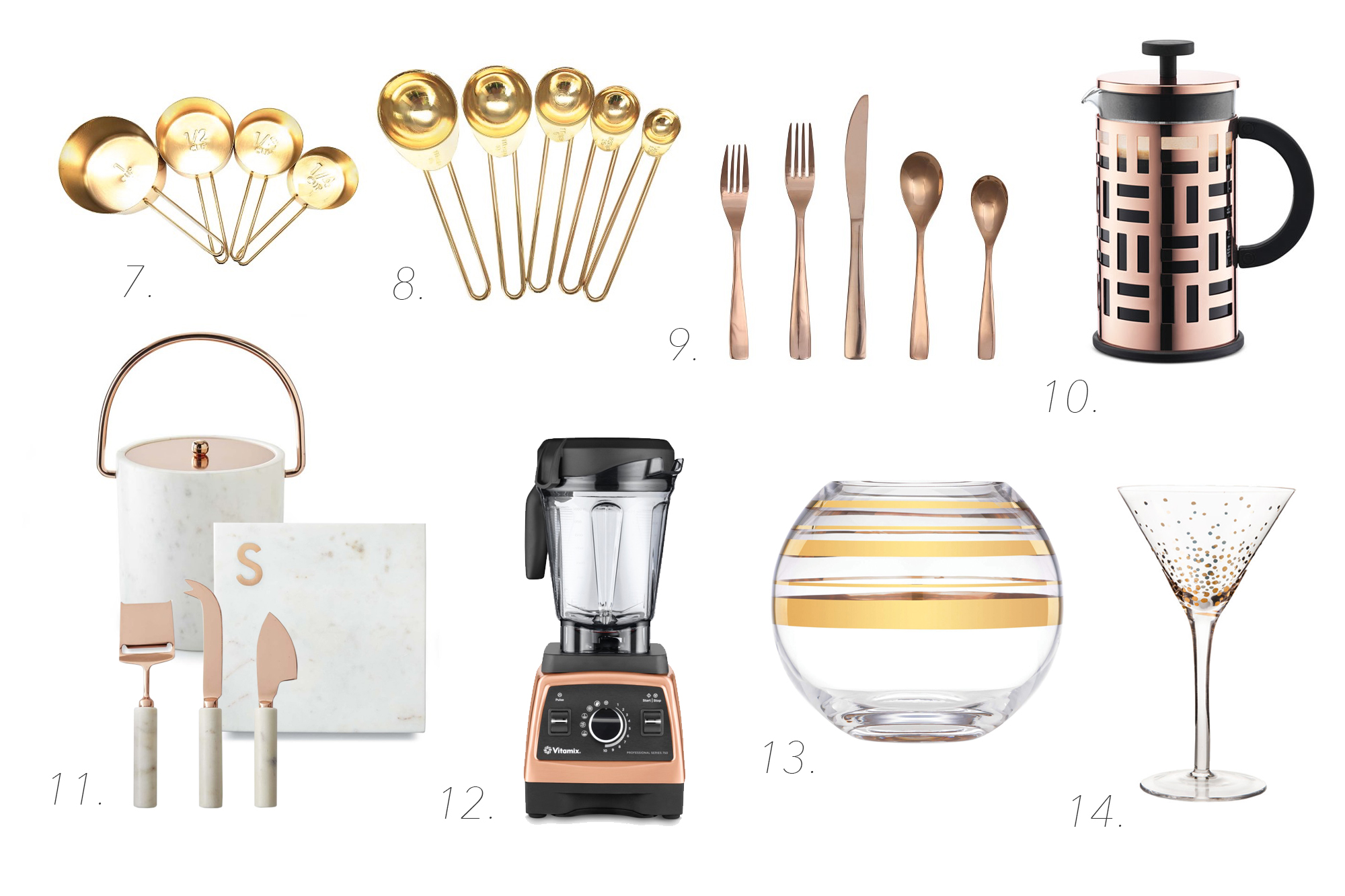 7. Gold Measuring Cups – Threshold – Target
Threshold from Target is pure gold (pun intended).
8. Gold Measuring Spoons – Threshold – Target
These gold measuring spoon are almost too pretty to use.
9. Vivian Flatware – Rose Gold – Threshold – Target
Unique flatware at a more than reasonable price.
10. Bodum Eileen 8 Cup Copper French Press Coffee Maker – Macy's
Pretty french presses make better coffee.
11. Marble & Copper Collection – Williams Sonoma
This beautiful marble and copper collection is the best accessory for your holiday party.
12. Vitamix Pro 750 Heritage Blender, Copper – Williams Sonoma
The only thing better than a Vitamix is a copper Vitamix.
13. Pearl Place Collection – Kate Spade
Kate never disappoints, and the Pearl Place Collection is no exception.
14. Confetti Glasses – Hobby Lobby
$5. Need I say more?
What are some of your favorite metallic pieces?