Spring Must-Haves for Under $50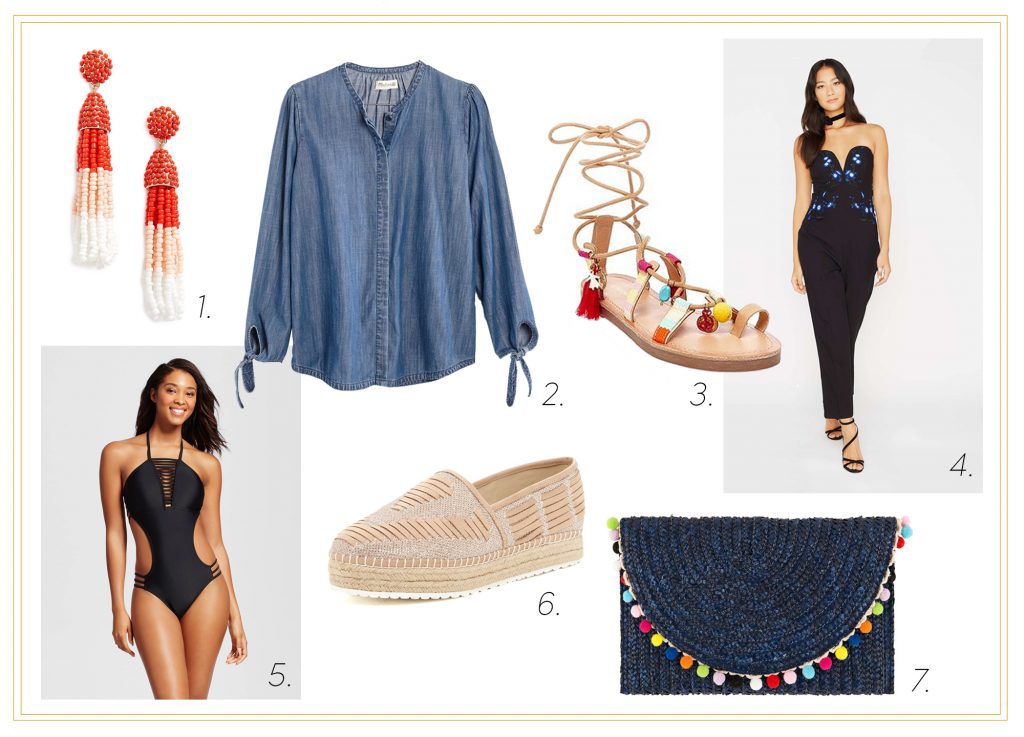 Spring is thirteen days away — best news ever! Warmer weather brings days at the park, yummy patio drinks and a reason to add a few new pieces to the wardrobe. No matter if you are getting ready for spring break or you might just be counting down the days until you can wear shorts on the daily; I think you'll love these spring must-haves. And you know me, I kept everything under $50! Cheers to spring!
1. Tassel Earrings – Nordstrom ($36)
These earrings are a great way to add a pop of color but not too much.
2. Denim Shirt – Madewell ($50)
I'm loving denim on denim right now. Throw this together with a pair of boyfriend jeans or shorts and you're cute and comfy.
3. Pom-pom Sandal – DSW ($40)
If you see anything with colorful pom-poms — buy it. The look is in and poppin'.
4. Embroidered Jumpsuit – ASOS ($43)
I promise, every time I wear a jumpsuit — I get compliments. It never fails. You need at least one, maybe two, in your closet.
5. Strappy One-Piece – Target ($30)
You don't know how pumped I am that one-pieces are the thing to wear. I'm buying them all.
6. Platform Espadrille -Nordstrom Rack ($35)
My go-to shoe in the spring and summer.Espadrilles are essential.
7. Statement Clutch – southmoonunder.com ($38)
I told you, the pom-pom look is the thing to buy right now. It's super fun, goes with everything and adds some funk to your look.
Did I miss anything? If you have any of your own spring styling tips, please let us know by commenting below! We would love to hear from you.