Among one of my favorite trends at the moment is the bar cart. These versatile pieces are functional and beautiful, which can make them a welcome addition to any living room, dining room, or kitchen. I've provided a few tips for styling yours to perfection along with a list of the accessories I have on my own cart. My quick and easy pointers are sure to impress your guests and raise your SPIRITS!
1. Layer
Create interest by layering objects. Start with a cutting board or cheese plate that gives some contrast to your surface material. Since my cart was wood, a choose a marble board but slate would have worked well too. Place decorative drinking glasses or cocktail mixing accessories on top. Overlap other pieces and use angles to create dimension. Then weight your bottles and liquids to a lower shelf on your bar cart (if you have one) to allow for a lighter, playful feel on top.
2. Texture
The texture of the materials you use, and the variety thereof, will give your bar cart visual excitement. Touches of wood, marble, ceramic and glass are perfect for a libation station. I personally love mixing metals so I also went with a thoughtful combination of gold, copper, and iron. One tip is to be conscious with the amount of glass used. Most drinking glasses, decanters, shakers, and bottles are glass so it can be easy to overwhelm a design with it. Try to look for bowls, vases, and accessories that can break up the uniformity or glass patterns with visible texture.
3. Height
Varying the landscape of your design is another important consideration. If all your objects are of similar height, the overall look will be monotonous. As necessary as your taller items are, it's equally fundamental to include some petite embellishments. A jigger, mortar & pestle and coasters make for practical applications of smaller, stylish accessories. Also, be conscious to balance the levels for your materials. For instance, since I have a iron wine rack on the bottom of my bar cart, I needed to bring a touch of iron to the top. (my vase) This goes with pretty much any material, but especially when it's heavy and dark like iron.
4. Color
Find a way to add just a little POP of color without going overboard. The right artwork above your bar cart will help immensely with this. A bowl of fruit is another great way to introduce color. You can also find drinking straws and stir sticks in fun hues and patterns or just throw in a dish of jewel-toned candy like Jolly Ranchers and you're set!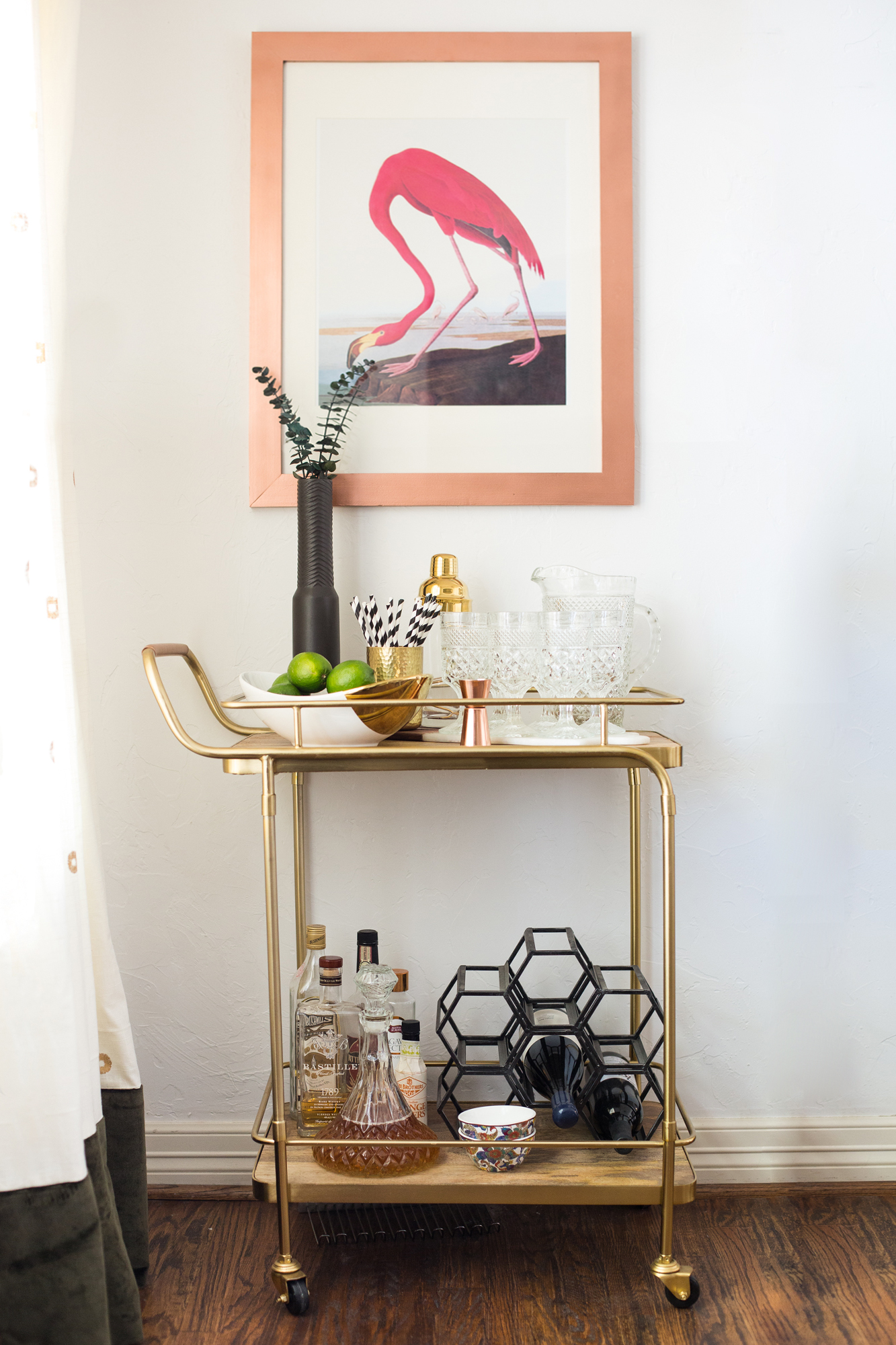 Here's what I used:
-Glassware
All the glasses, pitcher, and decanter were purchased at a local antique store for CHEAP! I guarantee you could find a similar style at one near you or a Goodwill.
–Vase
-Bowl
This gold dipped bowl was from a Nate Berkus collection years back. Here's another option that works well for fruit. Or this.
–Artwork
This piece from One Kings Lane was out of my price range so I purchased this print from Art.com instead and spray-painted an old frame copper.