New Mama Diaries // Top 10 Baby Items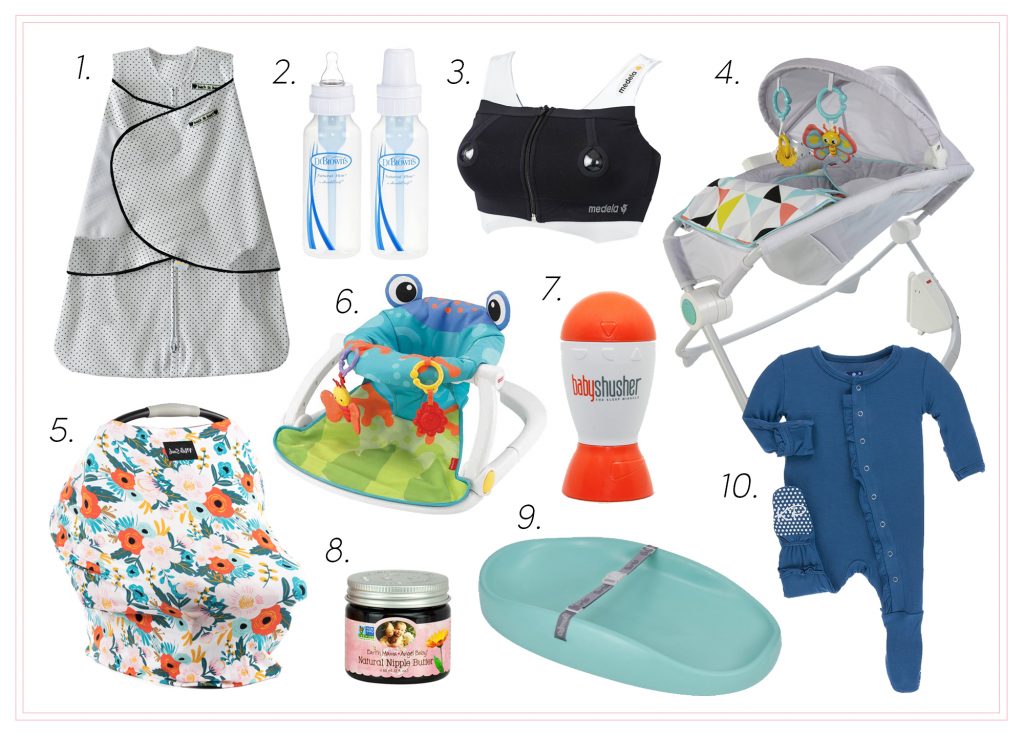 We are two months deep into parenthood — still major beginners but fresh out of the first couple of months with a newborn.  We received so many great gifts for our bundle of joy but there are a few items that have been clutch since Ria Grace made her arrival. Who knew a tiny human could need so much to exist?
Here are my top 10 favorite baby items that have helped us survive the last two months:
HALO® Sleepsack®
RG loves her sleepsack. Most babies are abnormally strong, which is why the velcro is a nonnegotiable when it comes to picking out the perfect swaddle. When she first came home from the hospital, she tried to act like she didn't like to be swaddled but we just kept on. She was faking it because she really does like it … and needs it so her crazy arms don't wake her up!
Earth Mama Angel Baby Natural Nipple Butter
This stuff is made by angels. Not really but pretty much. I had a girlfriend who first used the prescription nipple cream and it wasn't working. She started using the Earth Mama Nipple Butter and in a couple of days, her nips were healed up. I'm telling you, I used this stuff religiously and didn't have any nipple drama!
Pumping Bra
Pumping is necessary but oh, so boring! With this bra, you can keep on doing life while you pump! When it's time to pump, I just snap it over my bra — it's super easy to use and makes pumping not so terrible. I actually get stuff done while I pump!
Rock 'n Play Sleeper
RG went straight into her Rock 'n Play when we got home from the hospital. We don't leave home without it! We take it to the gym, grandparent's house, friend's houses, everywhere! It's the baby whisperer.
KicKee Pants Footies & Swaddles
KicKee is my addiction. It's like the lululemon for babies. Buttery soft and the footies look so cute on my babe. After my girl wears KicKee, it's hard to put her into anything else because they are so soft and comfy! The swaddles are our favorite because they are bamboo so they are super stretchy and breathable.
Milk Snob
We had friends and family come over almost everyday the first month of her life. It was nice to have my Milk Snob to throw on when RG needed to nurse. We actually have two, one for the house and one for the carrier. This is definitely a "have-to have" for nursing mama's!
The Baby Shusher Soother
It's kinda freaky how great this thing works. My girlfriend mailed one to me and we've used it daily ever since. They actually have an iPhone app and I purchased and downloaded it too so we always have a shusher on-hand! She falls asleep so much quicker with this thing by her side.
Dr. Brown's Natural Flow®
We gave RG her first bottle at three weeks (not Dr. Brown's), it was messy, she kind of hated it and we had to force her to take it. A couple of weeks later she broke up with it — would not take it. After freaking out a little, I tried the Dr. Browns bottles. She took it like a champ and actually liked it! (Trader.)
Sit-Me-Up Floor Seat
I am shocked how much we love this chair! We put RG in it at about 5 weeks and she loves it! She likes how she can look around, eat dinner with us, watch Mama get ready and just hang. It is higher in the back than a bumbo seat so it stabilizes her better. The only thing I hate about it is she looks so big when she's in it!
Bumbo Changing Pad
I thought I hated this at first because it can be kind of cold when we would first lay her down. It took about a week for her to get used to it but now it doesn't phase her a bit. I love that if she makes a mess (a.k.a. pees everywhere while changing her), all we have to do is wipe it up. No need to wash a cover, it's a quick clean up!
Okay, new mamas: your turn — what's your favorite baby have-to-have items? Please share!