Forward Football Fashion for Every Big 12 Team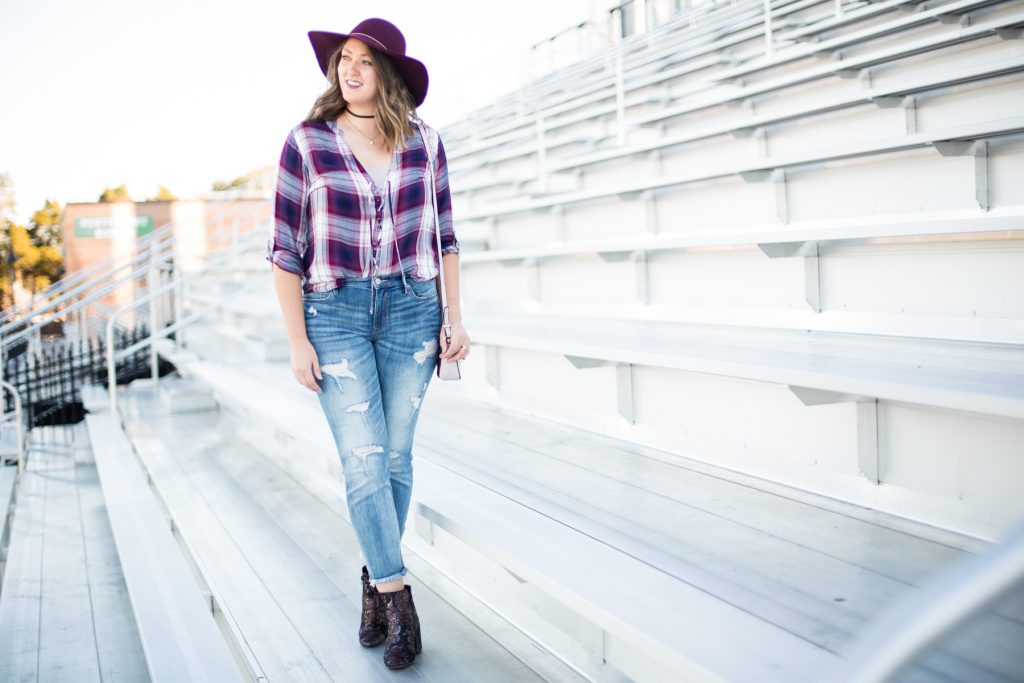 Fall is many things things to many people. But to those of us living near college campuses, with subscriptions to cable or just cohabiting with a man in general, Fall is just four letters that sandwich O-O-T-B. (Did you catch it?) It's college football season! We spend our Saturdays fangirling our favorite team around to all their games, having chili-nights-in on the couch with fellow supporters, and instinctively jumping into any mudslinging altercations to stick up for our boys in uniform. We are dedicated and show it with style. Fortunately, it's never been easier to stay fashionable while still remaining faithful to your colors. Today, I'm celebrating our family that is the Big 12 with a few stylish pieces to ensure we'll always be cheering with flair. So whether you wreck 'em, hook 'em, ride 'em, sic 'em, eat 'em up, or just give 'em everything you got, let's remember that we are all connected in this crazy sport we hold so dear!
Kansas State
First (and foremost), is the land of Purple & White and my alma mater, Kansas State University. K-State was founded as an Agricultural school, so I wanted to pay homage to that with a little bit of country and a lotta bit "classy cat." As some of you may know, purple (and in particular, royal purple) is a tricky color to showcase. Not only is it fairly difficult to find in non-collegiate retailers, but it can be easily be overdone or made to look cheesy. Shades like wine are good alternatives to go for, especially since it's so trendy right now. Plus, it can double as a maroon for any TAMU related sporting events my Aggie husband may drag me to! I found that Express was a great resource for those types of purple-hued attire.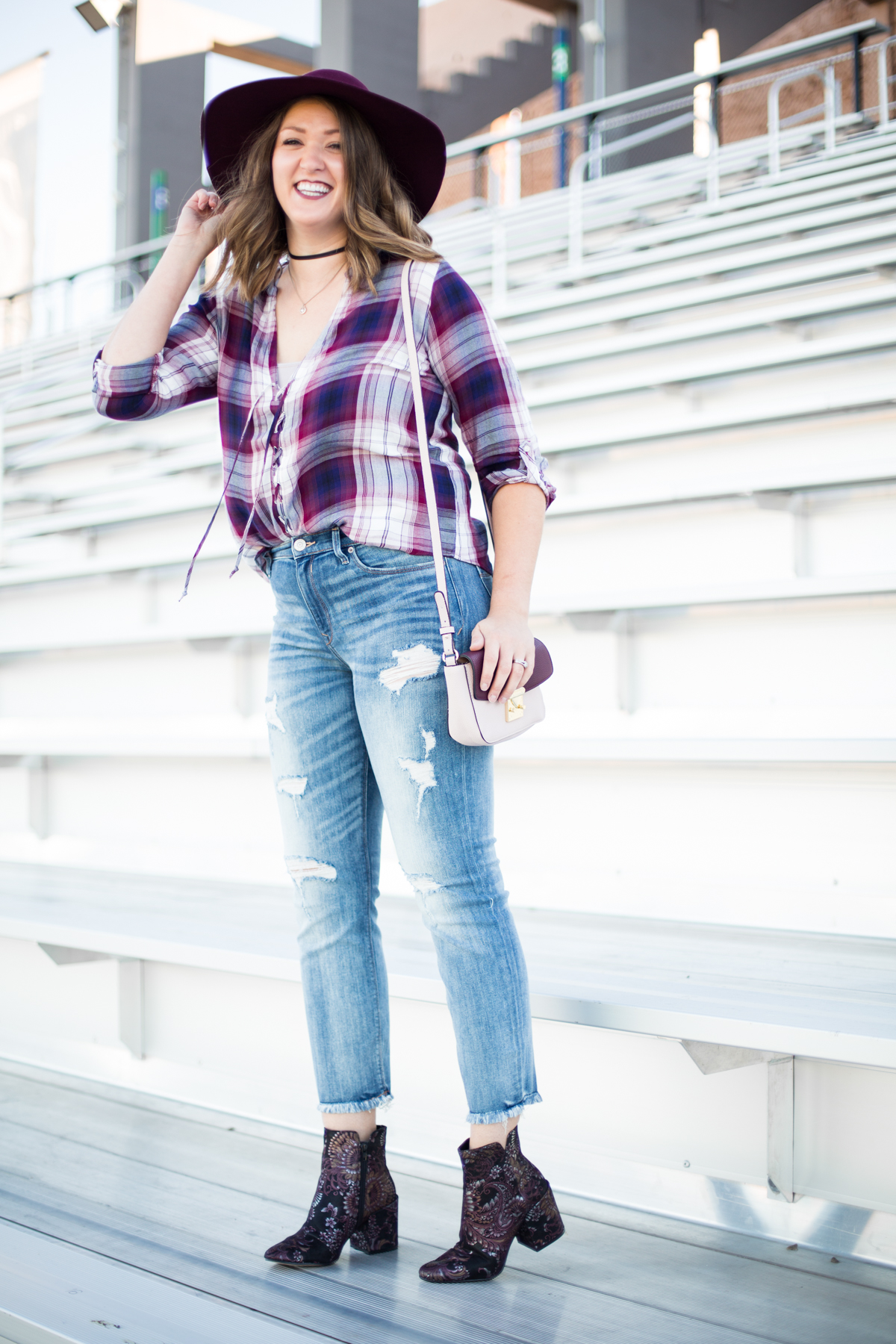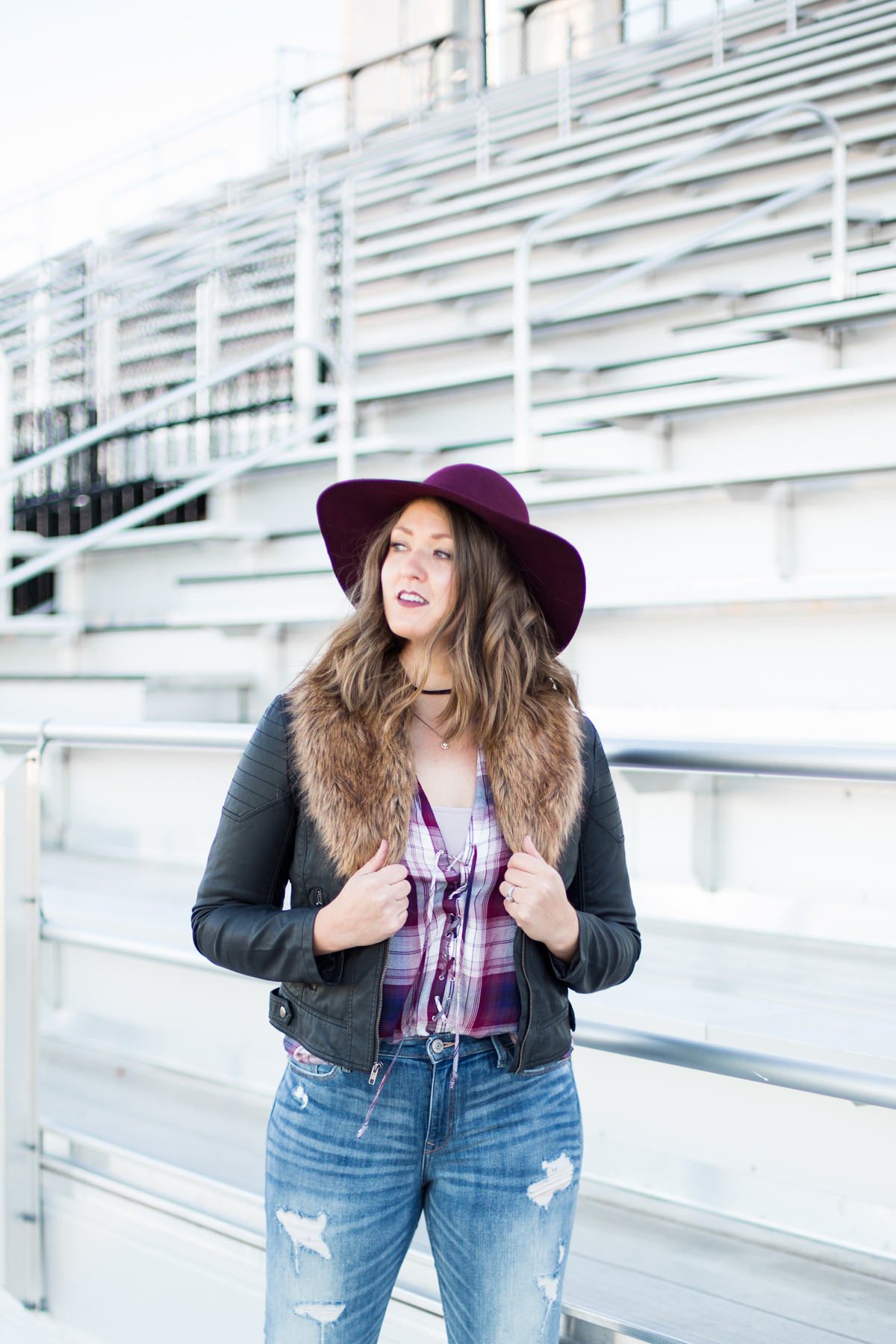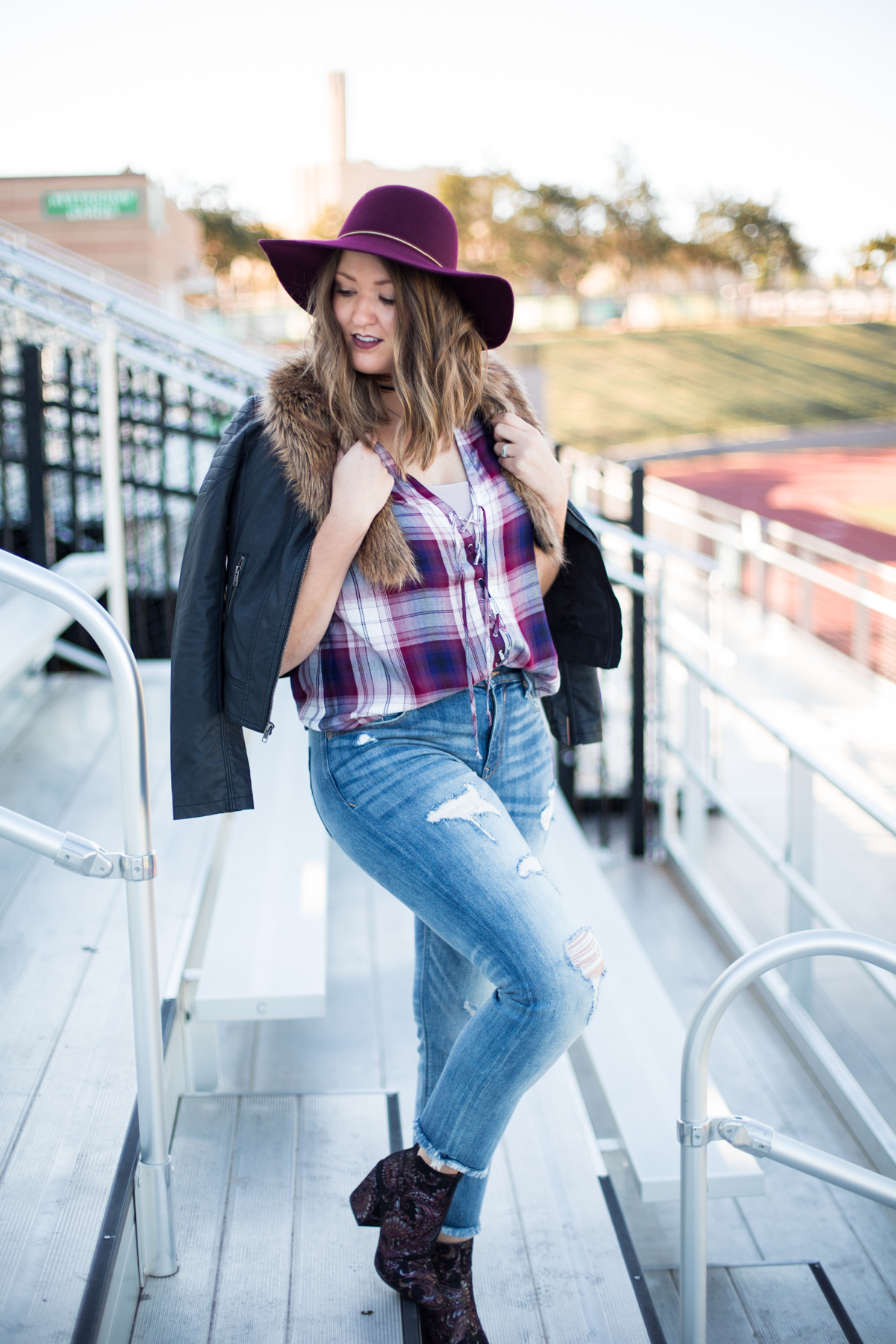 K-S-U WILDCATS!
Shirt  |  Jeans  |  Hat  |  Shoes  |  Bag  |  Jacket  |  Stole
---
Oklahoma
The crimson tide us Oklahomans are rolling with.
Leather Jacket
Faux Fur Stole
Shirt
Pants
Shoes
Oklahoma State
What's a cowboy without the gun + bandana combo?
Velvet Trucker Jacket
Gun Necklace
Sneakers
Dress
Bandana
Baylor
The bear necessities AND excessities.
Plaid Dress
Ribbed Armwarmers
Bears Tee
Over-the-Knee Boots
Texas Tech
I'd become a Raider for this outfit. A closet raider, that is… huh. huh. Okay, I'm done.
Floral Booties
Bandana Tube
Racing Stripe Jeans
Vest
Texas
I'm hooked on those copper leggings.
Dress
Sock Booties
Sweater
Leggings
West Virginia
If you are reading this and you are a WV alumni, leave a comment. That's how I'll know I've made it!
Striped V-Neck
Floral Dress
Sweatshirt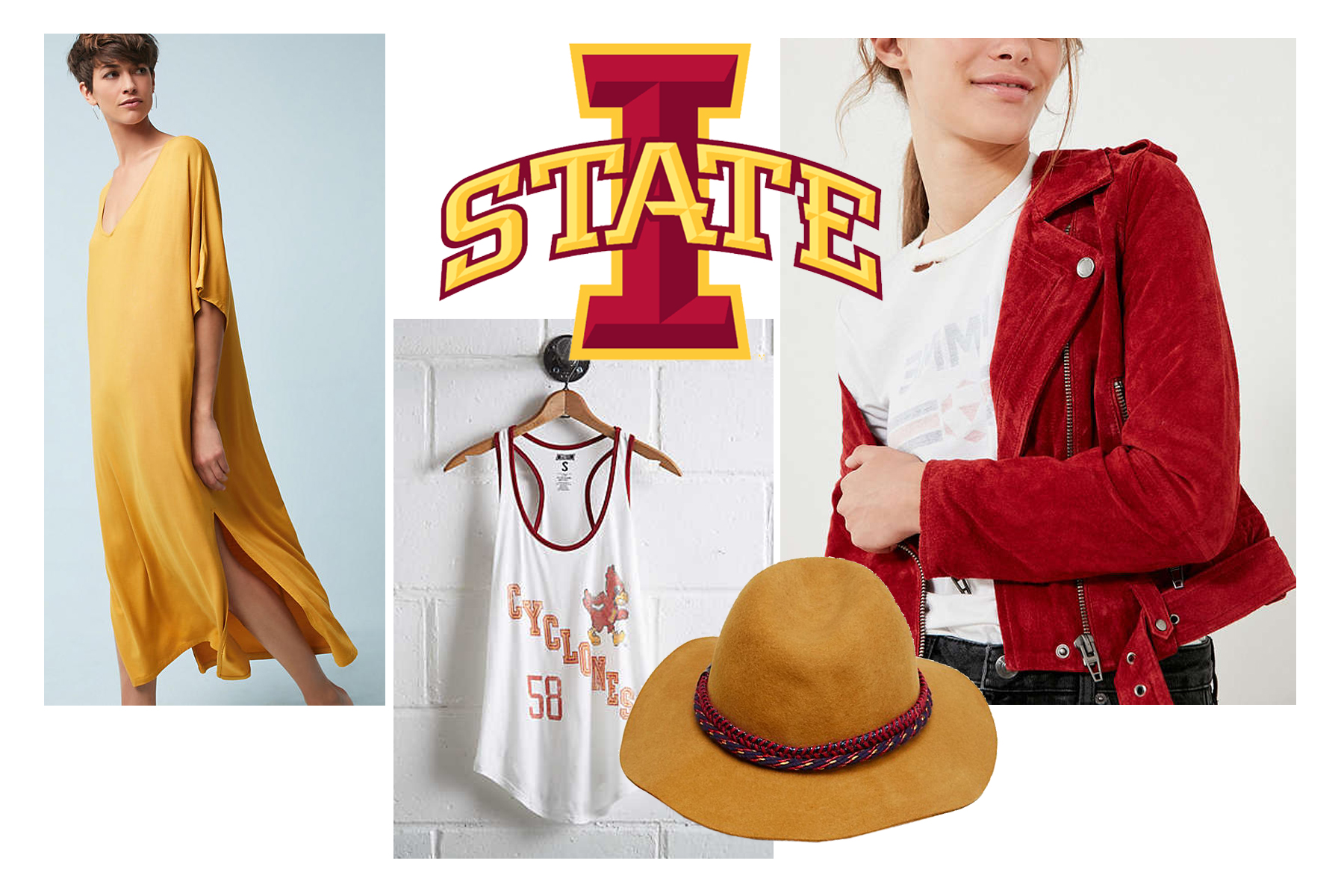 Iowa State
When in doubt, just wear ALL your school colors.
Oversized Maxi
Moto Jacket
Tank
Hat
Texas Christian
TCU: the only other school who truly understands the struggle of coordinating purple.
Embroidered Jeans
Collegiate Sweater
Purse
Kansas
Because if you're going to wear faux fur to a sporting event, you might as well make it football fabulous.
Scarf
Cropped Tee
High Waist Skirt SALE
Fur Coat