Perfectly Pumpkin Recipes
What's more comforting and nostalgic in the cool fall and winter months than pumpkin? From jack-o-lanterns to pies to PSLs, pumpkins add versatility to our homes and tables. Below you will find some fun (and healthy) pumpkin recipes for your coziest moments.
*Bonus* – Pumpkin is super high in vitamin A (hello 20/20 vision!) and has only 30 calories in a cup (goodbye guilt!).
Guilt-Free Pumpkin Pie
Gluten Free, Dairy Free, Vegan
Crust
3/4-cup pecans
¼ cup hazelnuts
¼ cup coconut oil
3 tablespoons maple syrup
1-cup gluten-free rolled oats
½ cup gluten free oat flour
½ tsp ground cinnamon
¼ tsp sea salt
Filling
1-cup cashews, soaked, drained, rinsed
1-cup pumpkin puree
½ cup maple syrup
½ cup coconut oil
1-tablespoon vanilla extract
1/8 tsp pumpkin pie spice
1/8 tsp ground nutmeg
¼ tsp sea salt
To make crust:
Preheat oven to 350 degrees. Grease 9 inch pie dish with     coconut oil.

Place pecans and hazelnuts in a food processor and pulse until the nuts reach a 

flour texture. Add the coconut oil, maple syrup, and oat flour and pulse until the mixture sticks together. Add the oats and ground cinnamon and pulse until the mixture sticks together again.

Add the mixture to pie dish and press to bottom and sides. Press the mixture hard to 

ensure the crust holds together. Poke holes in the bottom of the crust.

Bake crust uncovered for 10-12 minutes until golden. Allow to cool for at least 15 

minutes.
For the filling:
Add all ingredients to a high-powered blender. Blend until completely smooth 

and thick (~5 minutes).  If too thick, add 1 tablespoon of almond milk.

Pour filling into crust and top with desired toppings. Place in freezer for 2 hours 

uncovered and then cover with foil for 2 hours or until ready to serve.

When ready to serve, let pie sit at room temperature for 10 

minutes to soften.

Top with whipped cream or coconut cream to serve.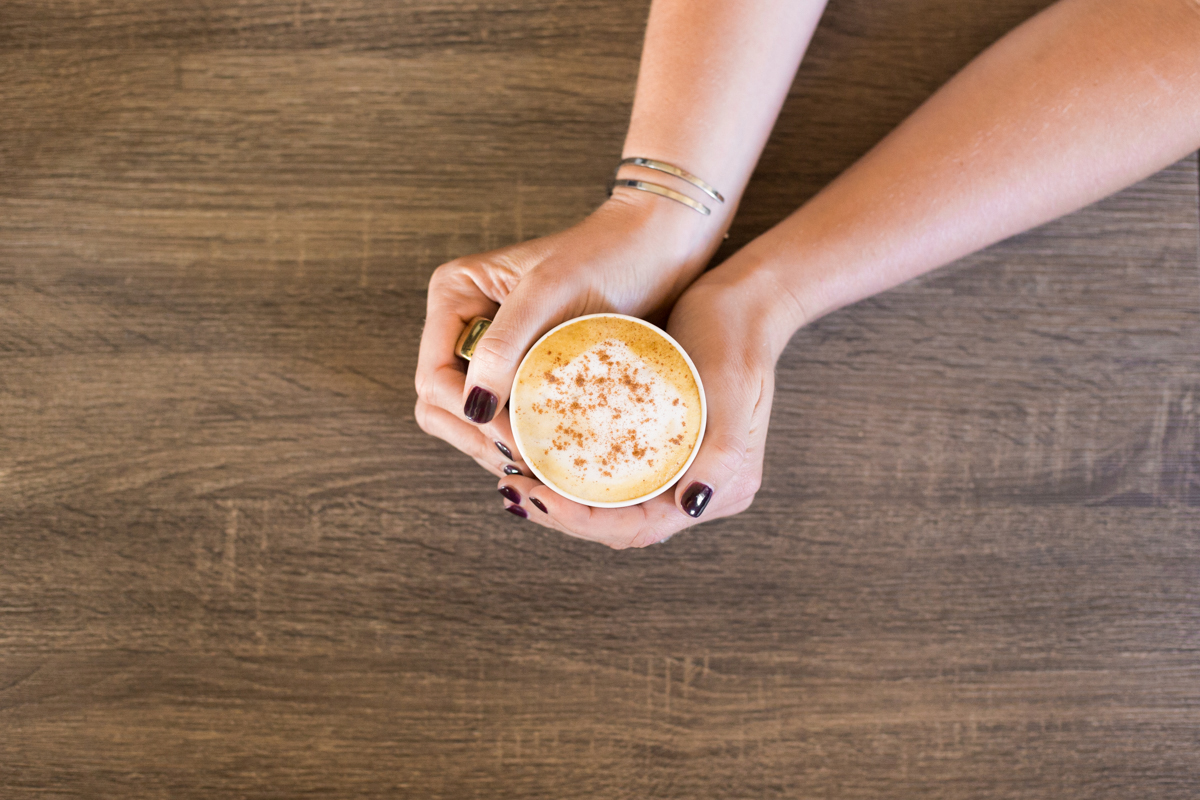 REAL Pumpkin Spice Latte
2 cinnamon sticks
1 inch piece fresh ginger
¼ inch piece fresh turmeric
*Turmeric is an anti-inflammatory spice that can help prevent dementia and other chronic diseases!  If you can't find fresh turmeric (usually by the fresh ginger), use 1 tsp ground found in the spice section.*
3 whole cloves
1 cup canned pumpkin puree
1 can full fat coconut milk
½ cup maple syrup
1 tsp pink Himalayan sea salt
1 tsp pure vanilla extract
¼ teaspoon grated nutmeg
¼ teaspoon pumpkin pie spice
Espresso or dark roast coffee (make sure it is extra hot!)
Steamed milk of choice
Ground cinnamon to top
Combine cinnamon sticks, ginger, turmeric, cloves, and 1.5 cups water to a medium saucepan over medium-high heat. Bring to a boil, whisking constantly for 10 minutes or until most water is evaporated.

Add pumpkin puree, coconut milk, maple syrup, and salt to the saucepan and whisk until the consistency thickens, approximately 5 minutes. Remove from heat.

Add vanilla, nutmeg, and pumpkin pie spice and strain through a fine mesh sieve.

To construct a latte, stir 2 tablespoons (or more if you like more sweetness) of the pumpkin puree into 1 shot of espresso or coffee equivalent. Top with steamed milk of choice (I like coconut!) and a sprinkle of cinnamon.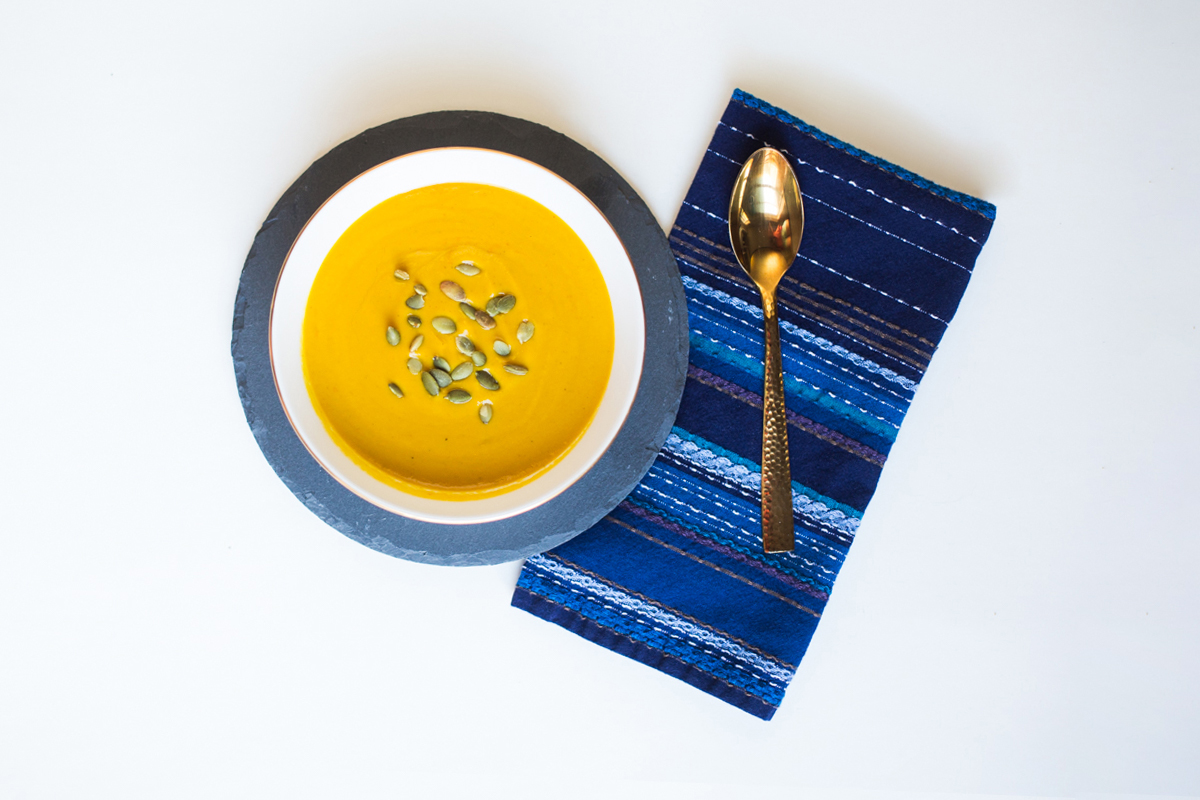 15 Minute Coconut Pumpkin Soup
1 Tablespoon coconut oil
1 teaspoon yellow curry powder
1 can unsweetened coconut milk
1 medium onion, diced
4 cloves garlic, minced
2.5 cups pumpkin puree
2.5 cups unsalted vegetable stock
Optional:
Pumpkin seeds, for serving
Greek yogurt, for serving
Add coconut oil to a saute pan over medium/low heat. Add onions, garlic, and curry powder to pan and cook until onions are translucent. Transfer mixture to a high speed blender or food processor.

Add pumpkin and vegetable stock to the blender. Blend on medium/high until the mixture reaches a smooth consistency. Add mixture to a large stock pot.

Slowly whisk coconut milk into the mixture. Set heat to medium and cook until warmed.

Season with salt and pepper to taste.

When ready to serve, garnish with desired toppings and enjoy.